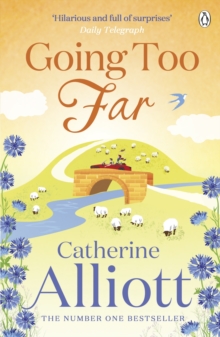 Going Too Far
Paperback / softback
Description
Laugh out loud with the gorgeously romantic rural comedy from the bestselling author of A Cornish SummerPolly is content and settled in married life, until one comment shakes everything up. 'You've gone all fat and complacent because you've got your man, haven't you?'Polly Penhalligan is outraged at the suggestion that since getting married to Nick and settling into their beautiful manor farmhouse in Cornwall she has let herself go.
But watching a lot of telly and gorging on biscuits, not getting dressed until lunchtime and waiting for pregnancy to strike are not the signs of someone living an active and fulfilled life.
So Polly does something rash. She allows her home to be used as a location for a TV advert.
Having a glamorous film crew around will certainly put a bomb under the idyllic, rural life.
Only perhaps she should have consulted Nick first . . . Because before the cameras have even started to roll - and complete chaos descends on the farm - Polly's marriage has been turned upside down. This time she really has gone too far . . . 'An addictive cocktail of wit, frivolity and madcap romance' Time Out
Information
Format:Paperback / softback
Pages:528 pages
Publisher:Penguin Books Ltd
Publication Date:10/05/2012
Category:
ISBN:9780241958292