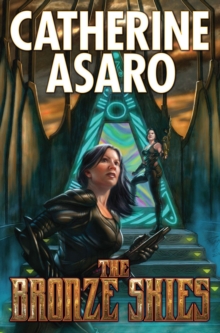 Bronze Skies
Paperback / softback
Description
Major Bhaajan achieved the impossible. Born to the Undercity, the slums below the City of Cries on the planet Raylicon, she broke free from crushing poverty and crime to become a military officer with Imperial Space Command.
Now retired from military duty, she walks the mean streets of Undercity as a private investigator. And she is about to embark on her most challenging case yet. Summoned by no less than the Ruby Pharaoh herself, Major Bhaajan is tasked with finding a killer.
But this is no ordinary murderer. The Ruby Pharaoh witnessed a Jagernaut cut down Assembly Councilor Tap Benton-which shouldn't have been possible.
The Jagernauts are the elite of the elite soldiers in the Imperial Space Command.
What's more, the spinal node implanted in all Jagernauts should have prevented the murder.
But the Ruby Pharaoh is sure of what she saw, and she has reason to believe that the Jagernaut will kill again. Now, Major Bhaajan must hunt down a killer before it is too late.
To do so, she must return to the one place on Raylicon she knows best: Undercity. About prequel Undercity:"Asaro plants herself firmly into that grand SF tradition of future history franchises favored by luminaries like Heinlein, Asimov, Herbert, Anderson, Dickson, Niven, Cherryh, and Baxter. . .They don't write em like that anymore! Except Asaro does, with . . . up-to-the-minute savvy!"-Locus"[Baahjan], who starts out keeping an emotional distance from the people in the Undercity soon grows to think of them as her community once more.
Asaro . . . returns to the Skolian empire's early history to tell Bhajaan's story."-Booklist"Asaro delivers a tale rich with the embedded history of her world and bright with technical marvels.
Her characters are engaging and intriguing and there is even a bit of romance.
What really touched my heart was Bhaaj's interaction with the children of the aqueducts.
I spent the last fifty pages of the book sniffling into a tissue."-SF Crowsnet"I'm hooked, both on her writing and her Skolian universe.
This book had everything I wanted: strong characters, a new and unique world, and a plot that isn't as simple as it first appears."-TerryTalkAbout Catherine Asaro's Skolian saga:"Entertaining mix of hard SF and romance."-Publishers Weekly "Asaro's Skolian saga is now nearly as long and in many ways as compelling as Dune, if not more so, featuring a multitude of stronger female characters."-Booklist"Rapid pacing and gripping suspense."-Publisher's Weekly
Information
Format: Paperback / softback
Pages: 448 pages
Publisher: Baen Books
Publication Date: 18/12/2018
Category: Science fiction
ISBN: 9781481483759
Other Formats
Paperback / softback from £10.75
Free Home Delivery
on all orders
Pick up orders
from local bookshops