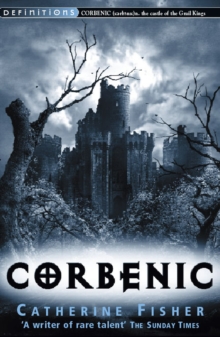 Description
Cal has struggled to cope with his mother's drinking and her psychotic episodes since he was six; cooped up in their dirty council flat he dreams of a new life.
So when he leaves to live with his uncle Trevor in Chepstow he is ruthless about breaking with the past, despite his mother's despair.
But getting off the train at the wrong station he finds himself at the castle of the Fisher King, and from then on moves in a nightmare spiral of predetermined descent into a wasteland of desolation and adventure, always seeking the way back to the Grail he has betrayed.
Catherine Fisher has created a gripping and highly moving novel that moves between myth and a contemporary journey of self-knowledge until one becomes indistinguishable from the other.
Drawing in Arthurian themes, historical re-enactments and the Four Hallows, Cal's quest for a return to peace of mind is an elaborate and ambitious Grail novel for our time.
An important new work from the author of the Book of the Crow
Information
Format: Paperback
Pages: 224 pages
Publisher: Random House Children's Publishers UK
Publication Date: 04/07/2002
Category: Fantasy
ISBN: 9780099438489
Free Home Delivery
on all orders
Pick up orders
from local bookshops
Reviews
Showing 1 - 1 of 1 reviews.
Review by Herenya
16/06/2015
Cal leaves home to work for his uncle, believing he has left the squalor and his alcoholic mother's psychotic visions behind him. However, he accidentally gets off at the wrong train station, and finds himself with no option but to stay at Castle Corbenic with its elaborate medieval décor. The people he meets are perplexing, and the castle's owner, Bron, claims that Cal can heal him. When Cal is shown things which remind him of his mother's visions, he denies what he sees. The following morning, the castle is a ruin, and Cal is left with a sword and the feeling he has failed more than just himself.Cal resolves to dispose of the sword, and in the process meets Arthur's Company, an odd medieval-battle re-enactment group. They confuse Cal with their talk of being immortal, and the extent to which they have embraced a life of medieval legends, but they are also prepared to help him. Cal realises that his mistakes have hurt people, including himself and as he attempts to distance himself from his past, he finds that it has more to do with his future then he ever imagined. His quest becomes more than a simple search for the Holy Grail; it is an emotional quest for self discovery which challenges his values and forces him to confront his fears. I love the way <I>Corbenic</i> ingeniously merges modern-day British life with the centuries-old legends surrounding King Arthur, the knights of the round table and the Holy Grail. The characters, especially Arthur's Company, are vivid and intriguing, with believable depth and humanity. I am frustrated by things regarding minor characters which are alluded to and left unexplained, but I love how I am left free to wonder. It makes them seem real. Cal is not always an easy character to relate to, but his motivations and experiences are well explained. Even when his determination turns to desperation, I felt sympathetic, and he really grows throughout the novel.<I>Corbenic</i> is wonderful and slightly unusual story about about growing up, family bonds, human endurance, forgiveness, the waste land and the Holy GrailSome years ago, I said that it was "mature and complex, suspenseful and heart-warming". I have since read other books which have been all of these things and more so, yet <I>Corbenic</i> is still something I want to read again. It stills feels like an original retelling of familiar legends, and continues to makes me wonder. It remains my favourite novel by Catherine Fisher.