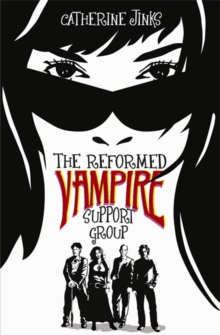 The Reformed Vampire Support Group
Paperback
Description
The trouble with being a vampire is . . . You can't get a decent haircut. You live on guinea-pig blood. And even worse, most of the world's population wants to kill you.
For no good reason. Nina Harrison became a vampire in 1973, when she was fifteen.
Since then, life's been one big drag - mostly because she spends all her time with a bunch of vampires, in a vampire therapy group.Then one of them gets staked by an anonymous vampire slayer, and things become even worse: while tracking down the culprit, Nina and her fellow vampires end up in the middle of an illegal werewolf-fighting racket, and find themselves the target of some genuine villains who'll stop at nothing to get their werewolf back.
Information
Format: Paperback
Pages: 352 pages
Publisher: Hachette Children's Group
Publication Date: 04/06/2009
Category: Non-fiction
ISBN: 9781847247780
Free Home Delivery
on all orders
Pick up orders
from local bookshops
Reviews
Showing 1 - 5 of 5 reviews.
Review by Rhinoa
16/06/2015
Nina was fanged in 1973 when she was 15. Since then she has trying to live as a reformed vampire dining off Guinea Pigs. There are a little group of them that meet every week in a local church with Priest Father Ramon to try to come to terms with what they are and offer each other support, guidance and therapy. Being a vampire is no easy thing. It is not a glamorous lifestyle like in the books, they are best by illness, have to wear dark glasses all the time and everyone wants to kill them. They are not the deadly predator with supernatural skills portrayed in fantasy and horror novels. Nina deals with this by writing her own fantasy vampire series with Zadia Bloodstone as the intrepid vampire heronine with all the usual superpowers.Life changes when one of their own is murdered (a stake through the heart does the trick). They find a silver bullet as a clue and pursue their lead to the very unsavoury Barry McKinnon and his son Dermind. They are running an illegal werewolf baiting racket and Nina, Dave (another vampire) and Father Ramon manage to get caught in the middle whilst looking for the killer. Barry and Dermind will stop at nothing to keep their werewolf who is worht upwards of a hundred thousand dollars...This book should have been amazing. It has some of the best ideas I have come across in a long time regarding vampire fiction. I loved that they were sick all the time and totally the opposite of the stories. Another great idea was that Nina contributed to the misconception by writing supernatural vampire fiction of her own. There is also Bridget, an elderly vampire who spends her time knitting. Unforatunately it fell a bit flat. It wasn't really explained why they were so sick all the time. What started as a fun murder mystery became a bit more of an action tale, but it just missed the mark somehow for me.
Review by wyvernfriend
16/06/2015
A story of a vampire group in Australia who find themselves investigating a murder of one of their number, not that several of them didn't mind that he's dead! It is quite entertaining that they're trying so hard to be normal and the meeting group are almost like an Alcoholics Anonymous meeting. It's not a bad story, I enjoyed it, but there were places I thought it could have been a bit better. It did do a good job of working out how this worked and the ramifications of some of the issues.
Review by riverwillow
16/06/2015
I wasn't sure how I would feel about this book - it was a birthday present - and found it an interesting addition to the vampire genre. I love the idea of of a support group for vampires as they try and cope with the reality of the dysfunctional existence thrust upon them. These are not the glamourous, controlling, vampires from many contemporary novels, they are sickly, living as they do on a diet of guinea pigs (if you love guinea pigs don't read this novel). It's an interesting idea, but somehow it misses the mark.
Review by elliepotten
16/06/2015
The Reformed Vampire Support Group takes vampire mythology and popular culture and dumps it unceremoniously on its head. Its unlikely heroine (and deliciously deadpan narrator), Nina, is a 51 year-old vampire who was infected when she was 15 and is sick of being treated like a kid as a result. She is a writer of vampire fiction (though she's 'no Stephenie Meyer') starring the beautiful and powerful Zelda Bloodstone. Sadly, life for a real vamp isn't quite so exciting. Nina and the other vampires in her therapy group are dead by day and ill most of the rest of the time. They feed on a guinea pig a day, 'fanged' in the bathroom (easier to clean) and placed in a ziplock bag in the freezer so the RSPCA don't get suspicious. They suffer terrible stomach problems and blinding headaches, take numerous supplements to ease their pain, and wear sunglasses all night so their eyes don't haemorrhage. Sounds fun, huh?But things are about to get interesting for the Reformed Vampire Support Group and their human friend Father Ramon. When a member of their group is killed by an unknown slayer, they must take urgent steps to ensure that their own lives aren't in danger. Alas, their investigations lead them slap bang into a shady underworld of guns and silver bullets, underground cells and werewolf fights. Rescuing dangerously sexy young werewolf Reuben is only the start of their problems. The slayer is still out there, and now they have a pair of thugs on their tail to boot…This really is a very clever novel, referencing all kinds of vampire stories from Dracula to Underworld, and shooting them all down in flames. Jinks' unique take on vampire fiction is witty and satirical, with a keen eye for the ridiculous. The characters are wonderfully diverse, from frail but feisty little Nina and her chain-smoking elderly human mother Estelle, to sweet old knitting-obsessed vampire Bridget and flamboyant cape-wearing menace Horace. The idea of a 'reformed vampire' therapy group, led by a priest and devoted to talking out fragile feelings and vampiric dilemmas, is pure genius. All in all, a solid little read, and well worth a look for a bit of refreshment from conventional vampire novels!
Review by snazz
16/06/2015
This is a completely different take on vampire lore. Vampires are fragile, fearful, harmless, and somewhat pathetic creatures with too many aches and pains to cause anyone real trouble.The story sounds slightly more interesting than it actually is, but there is an element of mystery and adventure that makes the book worth reading. Plus the characters are really unique.I'd say there are about 40 or so YA paranormal books I'd recommend before this one, but if you're looking for a change of pace or have simply read all of the 40 other books I would recommend before this one, give The Reformed Vampire Support Group a chance.