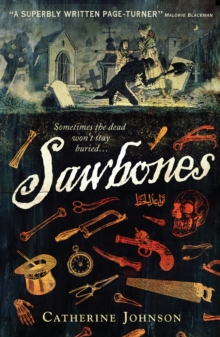 Description
"Gentlemen!" William McAdam addressed the room, a knife in each hand. "Your watches, please! I guarantee you the fastest amputation ever performed anywhere in the world..."Sixteen-year-old Ezra McAdam has much to be thankful for: trained up as an apprentice by a well-regarded London surgeon, Ezra's knowledge of human anatomy and skill at the dissection table will secure him a trade for life.
However, his world is turned on its head when a failed break-in at his master's house sets off a strange and disturbing series of events that involves grave robbing, body switching ... and murder. Sparky, persuasive young Loveday Finch, daughter of the late Mr Charles Finch, magician, employs Ezra to investigate her father's death - and there are marked similarities between his corpse and the others.
The mystery takes Ezra and Loveday from the Operating Theatre at St Bart's to the desolate wasteland of Coldbath Fields; from the streets of Clerkenwell to the dark, damp vaults of Newgate Prison; and finally to the shadowy and forbidding Ottoman Embassy, which seems to be the key to it all...
Free Home Delivery
on all orders
Pick up orders
from local bookshops
Reviews
Showing 1 - 1 of 1 reviews.
Review by othersam
23/09/2015
In a pungently-painted eighteenth century London a stage magician and a surgeon's apprentice must risk everything to uncover the secret behind a series of murders.True to the facts behind its subject, Sawbones has gore, grave-robbing, autopsies and amputations without anaesthetic: make no mistake, this book will make you shudder. But what's really sensational about it are its characters: it's been a while since a story had me worrying about them ('What? No! How will they get out of that?!') like Sawbones did.If you're looking for suitable reading matter as the nights draw in, the wind howls and the shadows flicker, look no further: Sawbones will cut you to the quick.