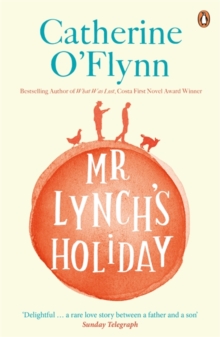 Mr Lynch's Holiday
Paperback
Description
Mr Lynch's Holiday is the new comic novel by Catherine O'Flynn, the bestselling and prize-winning author of What Was Lost and The News Where You Are. 'I'm looking forward to seeing you and Laura and getting my first taste of "abroad".' Eamonn Lynch stares at the letter announcing his father's imminent arrival.
His first thought: I'll make an excuse, I'll put him off.
But it's too late. Laura has left, and Dermot is already here, a fresh arrival from Ireland to southern Spain.
Now it's just the two of them, father and son, for two long, hot weeks.
Neither knows quite what to make of the other. But as they are swept up in the British expats' ceaseless barbecuing and bickering, they begin to discover the truth about why each left home and about the family past.
At the same time they uncover a shocking, unacknowledged secret at the heart of this defiant but beleaguered community.Mr Lynch's Holiday is the moving story of a father and son pushed together in sunny Spain.
With warmth and wit it is about the clash of generations; about how families fracture and heal themselves; and about how living "abroad" can be less like a holiday and more like a life sentence.'An awesomely talented writer' Jonathan Coe 'Delightful ... a rare love story between a father and a son' Sunday Telegraph'Subtle, clever and thoroughly enjoyable' Sunday Mirror'A remarkable and original writer ... tenderness, warmth, thoughtfulness and comic genius are words that are flung around a lot, but it's more than that.
She flinches at nothing and is as sharp as dammit' Fay Weldon, Observer'A flow of laugh-aloud satire ... sharp enough to rank her with Mark Haddon and Marina Lewckya' Independent on Sunday on The News Where You AreCatherine O'Flynn was born in 1970 and raised in Birmingham, the youngest of six children. Her debut novel, What Was Lost, won the Costa First Novel Award, was shortlisted for the Guardian First Book Award and was longlisted for the Booker and Orange Prizes. Her second novel, The News Where You Are, was shortlisted for the Bollinger Everyman Wodehouse Prize and an Edgar Allen Poe Award.
Information
Format: Paperback
Pages: 272 pages
Publisher: Penguin Books Ltd
Publication Date: 03/07/2014
ISBN: 9780141046372
Free Home Delivery
on all orders
Pick up orders
from local bookshops
Reviews
Showing 1 - 1 of 1 reviews.
Review by jayne_charles
27/08/2015
Catherine O'Flynn is such a class act, I would read anything she put out there, so it was great to find this one in the book shop. The trouble was, I didn't like it half as much as the previous two. I made an assumption that the humour that characterised her first two novels would continue in this one, but I didn't laugh once from start to finish. Here the category would be "poignant" (and there's something about that word that makes me cringe but there's no alternative in this case).With its father-son dynamic this is parked right in the middle of Tony Parsons territory, but has a literary feel. The narrative is spare, brief sections set in the characters' past sprinkled here and there, just enough information for the reader to join the dots. For me, the best bits were the ones set when Eamonn was a child, though I also thought the bit with the charity shop with its apathetic manager was spot-on. But always lurking at the margins were the two "no-nonsense couples", expats living in the 'urbanisation' in Spain where the story is set, trumpeted in the blurb as though they were going to be an integral part of the narrative. Here surely would be the opportunity for the author's trademark humour and characterisation, and wouldn't we all like to have a laugh at the expense of obnoxious Brits abroad. Whoever wrote the synopsis knew how to reassure the fan-base, but ultimately misled them – those couples were kept on the shortest of reins, and no matter how hard they knocked on the door of the plot, they weren't allowed in. What we did get was a lot of brooding from Eamonn, a man of little charm – for me the mystery wasn't so much why his girlfriend had left him, more what she ever saw in him in the first place – and coverage of his father Dermot getting along with everyone. Dermot was such a salt-of-the-earth type, so free of foibles that conflict was excluded. Oddly enough it doesn't make any difference in the long run. I still think she is a class act; I would still read anything she put out there. This one just wasn't my type.