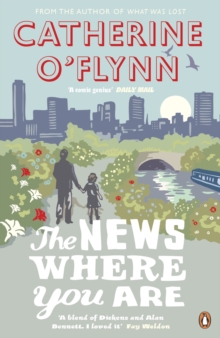 The News Where You Are
Paperback
Description
Catherine O'Flynn, author of the Man Booker prize winning What Was Lost offers a 'funny, moving, acutely observed story about family and loss' in The News Where You Are. Frank Allcroft, a regional TV news presenter, has just had a ratings boost.
His puns, a website declares, makes him 'the unfunniest man on God's Earth'.
Mortified colleagues wonder how he stands being a public joke. But Frank doesn't mind. As long as Andrea and Mo, his wife and eight-year-old daughter, are happy, who gives a stuff what others think?
Besides, Frank has a couple of other matters on his mind. He has taken to investigating the death of Phil, his (actually quite funny) predecessor, killed in a mysterious hit and run six months ago.
Also, he's telling Mo about the architect grandfather she never met by taking her to see vanished and soon-to-be-vanished buildings. Because Frank knows that it is between what we see and what we can't, what has gone and what's left behind, that the answers lie...Very funny, warm and moving, The New Where You Are is a story of family, friendship and trying to reconnect with the past before it is gone. 'Under the wisecracking surface ...surprisingly profound' The Times 'A flow of laugh-out-loud satire' Independent on Sunday 'Awesomely talented' Tatler 'Seriously uplifting, hilarious. A funny, moving, acutely observed story about family and loss.
A pleasurable, satisfying gem of a novel' Scotland on Sunday 'A blend of Dickens and Alan Bennett.
I loved it' Fay Weldon 'A comic genius' Daily Mail Catherine O'Flynn was born in 1970 and raised in Birmingham, the youngest of six children.
Her parents ran a sweet shop. She worked briefly in journalism, then at a series of shopping centres.
She has also been a web editor, a postwoman and a mystery shopper.
Information
Format: Paperback
Pages: 320 pages
Publisher: Penguin Books Ltd
Publication Date: 01/12/2010
ISBN: 9780141046365
Other Formats
EPUB from £3.99
eAudiobook MP3 from £14.24
Free Home Delivery
on all orders
Pick up orders
from local bookshops
Reviews
Showing 1 - 5 of 6 reviews.
Previous | Next
Review by Raven
16/06/2015
When I started at university, a topic that came up surprisingly often among my new friends was the issue of exactly what you were used to in the half-hour after the six o'clock news. Me, I was used to Northwest Tonight. I had friends who were used to Midlands Today, and Look North; my partner morosely talks about Reporting Scotland, because, as he puts it, all of Scotland is apparently one region. They are all preceded the same way: "And now," says the national newsreader at six thirty, "the news where you are."Frank Allcroft, the protagonist of this novel, works for Heart of Midland Reports, a fictional but very accurate local news programme. He's happy in local news; he feels a connection to the city he was born in, Birmingham, and he doesn't want to leave it. The corny jokes in his scripts have led him to being voted Britain's unfunniest man, but he doesn't really mind. He has two, slightly strange hobbies: one of which is chasing up on the people whose deaths appear on the programme - people who have no family, so their deaths aren't discovered and eventually they end up on the news - and the other one of which is taking his daughter to look at the buildings his father, a notable architect, built during the sixties in Birmingham, which are now in the process of being torn down.There is a whodunit of sorts in this novel - the mystery of one of Frank's former colleagues and how he died, and what his death had to do with one of the pensioners whose death was in one of Frank's reports - but that's not the centre of it. Rather, it's about Frank's sense of loss at the changes being wrought in the city, and the way the past is being erased. There's such a sense of place and time here, and a clear, slow evocation of the change.But - this isn't a depressing novel. It's uplifted by the simple fact that Frank adores his wife, Andrea, and his six-year-old daughter, Mo, and they love him. He wants Mo to have a sense of her past as well as the future, and that's the thread that holds it all together. This is a very British novel - I don't think it could have been set or written anywhere else - and I really love it for that, as well as everything else. It's very good, and it lingers beautifully.
Review by tulstig
16/06/2015
Although the book starts off with a hit and run accident it is basically a gentle book. I enjoyed the main character, and the ones who revolve around him, or visa versa. I really thought I had guessed the plot, so was pleased with the final twists and turns to confound me.
Review by jayne_charles
16/06/2015
I enjoyed Catherine O'Flynn's first novel 'What Was Lost' so much I bought this one without so much as reading the synopsis. I didn't think it was quite up to the standards of that first novel, but I enjoyed it all the same. It had a similar feel – as though a novel had been constructed around a series of comic set-pieces. A gentle sort of story, it will be bubbling along in a nondescript sort of way and suddenly out of the blue will come an acutely observed detail or a really really good joke.The protagonist Frank is an engaging character. He goes against the literary grain – not having any problems with his marriage or home life in general, not disliked by anyone, not having any kind of personal crisis worth speaking of. He's an all round good egg, if a bit uncool. Various people try to tell him he is uncool in ways varying from kind to cruel, but he already knows and genuinely doesn't care. For this reason I liked him. On the other hand I kept forgetting he was supposed to be famous on a local level (he is a regional news presenter). Not to say that such people can't be likeable, but I'm sure that reaching even the B-list of TV presenting requires fire in the belly and sharpened elbows. In short, he was too nice.It's not clear as the novel progresses what in essence it's about, or what sort of conclusion we are heading for. There is a mystery of sorts, but I guessed the answer correctly without much difficulty; it's not the sort with clever twists and that element of it might disappoint. On the other hand, fans of character-based fiction will find much to appreciate here.
Review by phoebesmum
16/06/2015
Set in the world of regional TV news. Frank, a news anchor, is concerned by the transience of things: his architect father's once-visionary buildings, now almost all demolished; yesterday's news stories; people's lives. He reports on the deaths of too many forgotten people, and is sometimes the only mourner at their local authority funerals. He finds one such lonely death tying in to the earlier death of a former colleague, and is moved to investigate further.Strangely, although this wasn't a dull book at all – the plot trotted along quite nicely and the characters were well drawn – I still forgot what was going on every time I turned the page. My fault, I think, rather than the author's.
Review by mahallett
16/06/2015
i didn't want this to end. the story is sort of all over the place but that is life. good reader. coincidently tom is reading what was lost by o'flynn and is whipping through it.