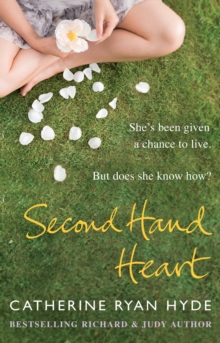 Second Hand Heart
Paperback
Description
One girl: Vida is nineteen, very sick, and has spent her short life preparing for death.
But a new chance brings its own story, because for Vida to live, someone had to die.
One man: Richard has just lost his beloved wife in a car accident.
He hasn't even begun to address his grief, but feels compelled to meet the girl who inherited his wife's heart.
Someone else's heart: In hospital Vida sees Richard and immediately falls in love.
Of course he dismisses her as a foolish child. But is she? Can two people be bound by a second hand heart?
Information
Format: Paperback
Pages: 480 pages
Publisher: Transworld Publishers Ltd
Publication Date: 16/09/2010
ISBN: 9780552776622
Free Home Delivery
on all orders
Pick up orders
from local bookshops
Reviews
Showing 1 - 3 of 3 reviews.
Review by funkyfairy22
16/06/2015
I really wanted to love Second Hand Heart based on what I read on the back of it. I thought that I would as it's the sort of book I love and I find the process of transplants interesting. I did think that it was a good book. But unfortunately there were one or two bits which I thought were unrealistic so I didn't enjoy it as much as I expected. My creative writing teacher is always telling us that things don't have to make sense or be realistic they just have to work. And the bits that I found unrealistic did work for the plot. So overall it's a good book.Vida is 19 and dying if she doesn't get a heart transplant very soon. She's been ill her entire life. Richard's wife dies unexpectedly and he donates her heart to Vida. Second Hand Heart is the story of what happens to both Richard and Vida after they meet very soon after the transplant (it was how soon after the transplant they met I felt to be unrealistic).The plot changes and twists around as the story goes on. And the characters grow and change along with it. I particularly enjoyed seeing how Vida grew as a person once she got healthier and discovered the world. The perspective changes from Vida to Richard and back again repeatedly. Seeing things from the others perspective gave a different light to the book and brought it to another dimension.Based on the subject matter you might think this would be a depressing book. It was anything but. Well written, it keeps you interested and has a nice feeling to it. I'm glad I read this book.
Review by masonlou
16/06/2015
I am not sure about this book, the subject of memories in the organs just seems very unrealistic to me. I didnt connect with the characters, and at parts the writing didnt flow very well. In some parts of the book i was enjoying it but it didnt last long.
Review by amz310783
16/06/2015
This wasn't as good as I had hoped, I couldn't really like any of the characters, they all seemed to act like spoilt children, I get why Vida was that why, and to some extent why Richard was, but why did Victor have to act like that?