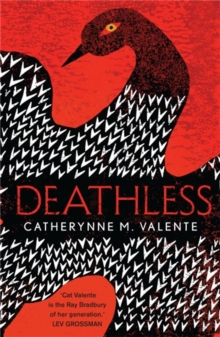 Description
A handsome young man arrives in St Petersburg at the house of Marya Morevna.
He is Koschei, the Tsar of Life, and he is Marya's fate.
For years she follows him in love and in war, and bears the scars.
But eventually Marya returns to her birthplace - only to discover a starveling city, haunted by death.
Deathless is a fierce story of life and death, love and power, old memories, deep myth and dark magic, set against the history of Russia in the twentieth century.
It is, quite simply, unforgettable.
Information
Format: Paperback
Pages: 352 pages
Publisher: Little, Brown Book Group
Publication Date: 20/06/2013
ISBN: 9781472108685
Free Home Delivery
on all orders
Pick up orders
from local bookshops
Reviews
Showing 1 - 2 of 2 reviews.
Review by SChant
16/06/2015
Disappointing. Inspired by Russian folk tales and might have been better at a folk-tale length - short story or novella. as it was, it seemed to meander on for a long time and I skimmed the last quarter. On the plus side, her imaginative turns of phrase kept me going.
Review by Goldengrove
27/08/2015
I was drawn to this book by the beautiful cover, and the fact that Lev Grossman describes the author as 'the Ray Bradbury of her generation'. Ray Bradbury is a wonderful writer, and The Martian Chronicles one of the most beautifully poetic books I know. I simply had to buy it. At the desk in the Oxfam Bookshop, Strutton Ground the young volunteer enthusiastically recommended it. We had a happy chat about Bradbury, and I went back to work with my new book. Deathless essentially tells the bloody and heartrending story of Russia in the early 20th century as if it were a Russian folk tale. Marya Morevna, a child in her family's house, looks out of the window and sees a bird fall from a tree. When it lands, it ibecomes a handsome young man who knocks at the door to ask for the hand of the girl at the window. Her mother, of course, introduces her eldest daughter, and they are married. This happens with the second bird, and the second daughter as well, but the third time Marya is distracted and does not see what manner of bird her suitor is. This is a big mistake. Marya's fate is Koschei, the Tsar of Life, and her own life will not be an easy one with him.The tale of Marya and Koschei, and the endless war against his brother, the Tsar of Death, is full of sorrow, fierce love, and death. It is also the story of the fate of Russia facing injustice, war, death and starvation. I found it helpful to have some knowledge of the shape of Russian folk tales (if only via Old Peter's Russian Tales!), and their brave, clever heroines who outwit the malign forces that try to trip them up. Marya is one of these heroines, she endures and suffers, but she is not conquered.The writing is a wonder, the concept thrilling. This is the best book I have read this year.
Also by Catherynne M. Valente | View all