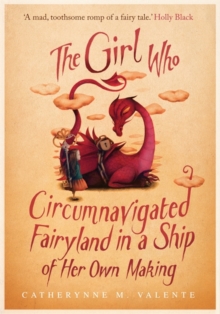 The Girl Who Circumnavigated Fairyland in a Ship of Her Own Making
Paperback
Part of the Fairyland series
Description
September is a twelve-year-old girl, Somewhat Grown and Somewhat Heartless, and she longs for adventure.
So when a Green Wind and a Leopard of Little Breezes invite her to Fairyland - well, of course, she accepts (mightn't you?).
When she gets there, she finds a land crushed by the iron rule of a villainous Marquess - she soon discovers that she alone holds the key to restoring order.
Having read enough books to know what a girl with a quest must do, September sets out to Fix Things.
As September forges her way through Fairyland, with a book-loving dragon and a boy named Saturday by her side, she makes many friends and mistakes, losing her shadow, her shoes and her way.
But she finds adventure, courage, a rather special Spoon, and a lot more besides . . .
Information
Format: Paperback
Pages: 336 pages
Publisher: Little, Brown Book Group
Publication Date: 01/06/2012
Category: General
ISBN: 9781780338330
Other Formats
Paperback from £6.49
EPUB from £2.99
Free Home Delivery
on all orders
Pick up orders
from local bookshops
Reviews
Showing 1 - 3 of 3 reviews.
Review by SandDune
16/06/2015
September is a 12 year old girl who is bored at home and who doesn't fit in at school. So when the Green Wind and his leopard (the Leopard of Little Breezes) arrives at her window and invites her on a trip to Fairyland, she isn't likely to refuse. But Fairyland isn't quite as she imagined: for a start there seems to be a surprising lack of fairies. The rule of the benevolent Queen Mallow has been replaced by that of the Marquess, seemingly a young girl but one who holds all Fairyland in her sway. Determining that any visitor to Fairyland needs a serious quest, September undertakes to retrieve the magic spoon of the witch Goodbye which has been stolen by the Marquess. She's befriended in her quest by a wyvern, A-through-L, a dragon-like creature who is unable to fly as all winged creatures have their wings bound with iron chains by order of the Marquess. But the control of the Marquess over Fairyland is greater than September had ever imagined, and her quest becomes seemingly more and more hopeless.I enjoyed this book, but I was expecting to love it, and in the end I wasn't quite as enthralled by it as other people seem to have been. To me it seems to have slightly fallen between two stools in deciding whether it is an adult's or a children's book. There is beautiful writing here and hugely imaginative ideas, but it just left me a little colder than I was expecting. For me, everything just needed to have a little more depth.
Review by wyvernfriend
16/06/2015
This is a charming story told in the kind of prose reminiscent of fairy stories of old. A suitable book to finish on the 200th anniversary of Grimm's Fairy Tales!September lives in Omaha, her dad is off fighting a war and her mother is at work in a factory. September is lonely and adventureless and when the Green Wind arrives at her window and offers her a trip to Fairyland she accepts.Fairyland has a problem, the wicked Marquess and September could help, this is the tale of her adventures. A lovely story, well told and warmly reminiscent of older stories. Has a sly occasional nod to the reader that made me smile and warmed my heart.I would warmly recommend this one.
Review by SadieSForsythe
02/03/2016
Imaginative and resplendent with Valente's particular flourish for language. I even teared up a little, there at the end. However, I was also a little bored throughout the middle. BUT I have children, 4 & 7, and I cannot wait for them to read it!
Also by Catherynne M. Valente | View all