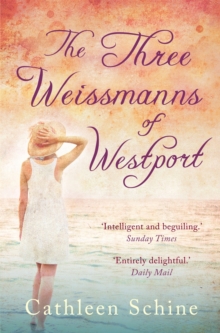 The Three Weissmanns of Westport
Paperback
Description
When Joseph Weissmann divorced his wife, he was seventy eight years old and she was seventy-five...He said the words "Irreconcilable differences," and saw real confusion in his wife's eyes. "Irreconcilable differences?" she said. "Of course there are irreconcilable differences. What on earth does that have to do with divorce?" So begins The Three Weissmanns of Westport, a sparkling, and stinging, contemporary adaptation of Sense and Sensibility.
The Weissmann sisters Miranda, an impulsive but successful literary agent, and Annie, a pragmatic library director, quite unexpectedly find themselves the middle-aged products of a broken home.
Dumped by her husband of nearly fifty years and then exiled from their elegant New York apartment by his mistress, Betty is forced to move to a small, run-down Westport, Connecticut, beach cottage.
Joining her are Miranda and Annie, who dutifully comes along to keep an eye on her capricious mother and sister.
As the sisters mingle with the suburban aristocracy, love starts to blossom for both of them, and they find themselves struggling with the dueling demands of reason and romance.
Information
Format: Paperback
Pages: 304 pages
Publisher: Little, Brown Book Group
Publication Date: 01/06/2011
Category: Classic fiction (pre c 1945)
ISBN: 9781849016063
Other Formats
EPUB from £4.99
eAudiobook MP3 from £16.76
Free Home Delivery
on all orders
Pick up orders
from local bookshops
Reviews
Showing 1 - 1 of 1 reviews.
Review by AdonisGuilfoyle
16/06/2015
I have read a bunch of Austen sequels, prequels, parallel novels and reboots since discovering relatively recently the genius that is Jane, and I think one of the hardest balances for modern authors to strike is the 'modernisation' of a classic text. Especially a nineteenth century text by Jane Austen. Those who stray too far from the source risk alienating the intended demograhic (and offending an army of Janeites), but adhering too rigidly to the original characters and plot devices instead of creating a new perspective is an insult to both author and reader.In that respect, Cathleen Schine's revision of <i>Sense and Sensibility</i> is a work of art. She honours Austen's work, incorporating all the familiar characters like Elinor, Marianne, Brandon and the worthless Willoughby, without robbing the Weissmann family of personalities and relationships distinct from the original novel. Annie, Miranda and their mother Betty are instantly recognisable - Annie is quite literally 'by the book', a librarian who loves to lose herself in old novels, while Miranda is a 'nightmare' who specialises in melodrama - yet more, somehow, than modern translations of the Dashwood family. While Schine runs more to comedic vignettes than Austen's telling dialogue, I came to know and relate to her characters in the same way that Elinor and Marianne are also brought to life on the page.The plot also follows Austen's tangled web of close-knit society and scandalous rumours, moving from Austen's Devonshire to a beach cottage in Westport, Connecticut (which sounds absolutely beautiful). I actually thought - and here's where I venture out onto thin ice - that Schine handled the plot of S+S more skilfully than Austen herself, neatly updating the circumstances while toning down (or reallotting) the drama. For instance, instead of the death of Mr Dashwood and the callous casting off by the son of Mrs Dashwood and her daughters, Schine opens with Joe Weissmann demanded a divorce from Betty, his wife of fifty years, because he has fallen in love with a younger (relatively speaking) woman. The result is still shocking, and the reader will love to hate Felicity, Betty's replacement, but a businessman's late-life crisis is more relateable than primogeniture. The ending is also a great improvement on Marianne's melodramatic decline and unlikely betrothal, left suggestively open for the reader to decide who should be with who. I was left heartbroken by Schine's reversal of roles in the final chapters.What swayed me most, however, is Cathleen Schine's entrancing narrative, full of humour, honesty, poetry and life. She describes the East Coast setting with romantic intensity, and brings her characters to life with little quirks of speech and action. Of course she isn't on par with Austen, but she tells the Weissmann's story with great wit and pathos, and if the reader also recognises familiar faces and situations from <i>Sense and Sensibility</i> in her writing, than the connection is an added bonus. Wonderful.