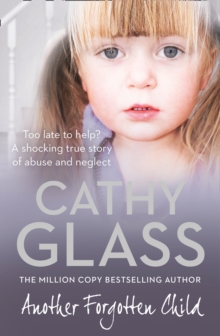 Another Forgotten Child
Paperback
Description
A new memoir from Sunday Times and New York Times bestselling author Cathy Glass.Eight-year-old Aimee was on the child protection register at birth.
Her five older siblings were taken into care many years ago.
So no one can understand why she was left at home to suffer for so long.
It seems Aimee was forgotten.The social services are looking for a very experienced foster carer to look after Aimee and, when she reads the referral, Cathy understands why.
Despite her reservations, Cathy agrees to Aimee on - there is something about her that reminds Cathy of Jodie (the subject of `Damaged' and the most disturbed child Cathy has cared for), and reading the report instantly tugs at her heart strings.When she arrives, Aimee is angry. And she has every right to be. She has spent the first eight years of her life living with her drug-dependent mother in a flat that the social worker described as `not fit for human habitation'.
Aimee is so grateful as she snuggles into her bed at Cathy's house on the first night that it brings Cathy to tears.Aimee's aggressive mother is constantly causing trouble at contact, and makes sweeping allegations against Cathy and her family in front of her daughter as well.
It is a trying time for Cathy, and it makes it difficult for Aimee to settle.
But as Aimee begins to trust Cathy, she starts to open up. And the more Cathy learns about Aimee's life before she came into care, the more horrified she becomes.It's clear that Aimee should have been rescued much sooner and as her journey seems to be coming to a happy end, Cathy can't help but reflect on all the other `forgotten children' that are still suffering...
Information
Format: Paperback
Pages: 304 pages
Publisher: HarperCollins Publishers
Publication Date: 13/09/2012
Category: Memoirs
ISBN: 9780007486779
Free Home Delivery
on all orders
Pick up orders
from local bookshops
Reviews
Showing 1 - 5 of 14 reviews.
Previous | Next
Review by WillowOne
16/06/2015
I received a copy of this book for the purpose of review.Cathy Glass has been fostering children in the UK for over 20 years. She has cared for approximately100 children during that time. Ms. Glass now has written 15 books mostly about different childrenshe has cared for, but a few have been about child care in general.Another Forgotten Child follows the life of Aimee, an 8 yearl old girl who should have been takeninto care at birth but, for one reason after another was left to grow up in a life of poverty andmany kinds of abuse. For purposes of anonimity Ms. Glass has changed names, dates and places. Aimee's parents were both addicted to drugs and were unable to care for her properlydue to their dependence. The social services system had already taken 5 othersiblings away from Aimee's mother, Susan but, failed Aimee in many ways. Aimee saw thingsshe should have never seen, had things done to her that should have never happened andwas forced to essentially become an adult to take care of herself and her mother to survive.Once Aimee was finally taken into care she had alot to learn. She was used to doing thingsas she wanted and when she wanted. She had never been a child with any boundaries.She came to Cathy with no people skills, rotten teeth from eating mostly sweets, a very bad infestation of head lice, clothing that had not been washed, maybe ever and had never had a proper bath. By this time Susan had grown to love and depend on her daughter and was't willing to agree with foster care so, like she had done with her other children, she chose to make life hard on the carer. By twisting what Aimee told her she would make up things to get the carer in trouble. This was always in hopes of having the child moved so many times through the foster care system that they would eventually give up and return the child to her. She alsothreatened the carer's when no one was around to hear.Under Cathy's care Aimee blossomed and started to open up. She told Cathy some thingsabout her past and what she remembered but other times she chose to keep things to herselffor fear that she and/or her mother would be hurt. Aimee grew to trust Cathy and love her. When itwas finally decided that Aimee would never be able to go back to Susan it was found that Aimee'seldest half-brother Jason and his wife wanted to take Aimee into their home and family. Jason and Jenny were already experienced foster carer's so they knew what they were getting into withAimee. Although Cathy would have loved to have raised Aimee as her own, she found that Jasonand Jenny were a perfect fit for Aimee and with Jason being family and also a product of goodfostering, it ended up the way it should.
Review by Nebraska_Girl1971
16/06/2015
A raw and true to life story about and 8 year old little girl who enters into the foster care system in England. With that said, this story could have been written about many of the children in our (United States) foster care system. Working in the courts (and working specifically in a Dependency and Neglect court) for over 10 years, this story is sad but very typically tale. The laws regarding children and extremely similar but there are some differences between the countries – and there will be differences between states. I thought this book was very well written – a little basic at times, but I am also very familiar with the system. I thoroughly enjoyed this book and would recommend it to others.
Review by Mrsmommybooknerd
16/06/2015
A raw, real and engaging memoir that offers hope in what appears to be a hopeless situation! An emotional page turner that will amaze you with the resilience of children and the unconditional love of an amazing women determined to do right by them. 5 stars!
Review by KimberlyGScott
16/06/2015
Another Forgotten Child by Cathy Glass is both heartbreaking and heartwarming. Although this story takes place in the UK and I live the US, we often hear of stories such as this. It breaks my heart that children anywhere in the world should suffer abuse or neglect such as Aimee did in this story. As Cathy told Aimee's story I had tears in my eyes, this made me wish that I could reach out and give this child and so many others like her a big hug! I admire the good foster carer/parent's that truly care and help the children that need to learn what love and to be cared for are. I will be reading more of Cathy's books now that I have found them. I received a free copy of this book in exchange for my honest review, rather it be good or bad.
Review by DeanieG
16/06/2015
Another Forgotten Child is a book filled with the recollection of horrors a little girl had to endure before being put into foster care. This was a hard, sad, frustrating story to follow. I wish it was a work of fiction. The writing is simple and often repetitive. Cathy Glass is to be commended for her years of dedicated service to abused children but I'm not sure I understand her motive in writing so many books about the children.