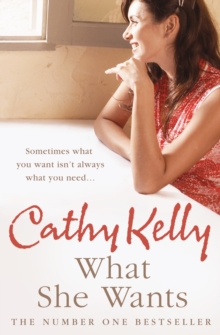 What She Wants
Paperback / softback
Description
Sometimes what you want isn't always what you need When Matt decides to uproot his family and move to Ireland, his wife Hope has no choice but to go with him.
But their move is a far cry from the rustic romantic life that he promised - with Matt spending every day at the local arts centre, Hope has to look after the children on her own in their small run-down cottage, miles away her friends.
It's not long before she's desperately lonely and she's got nowhere to turn. Back in London, her sister Sam is completely different.
Brittle and sharp, she's a mover and a shaker, with a fantastic job as the managing director of a major record label.
Having decided she's never going to be anybody's accessory, she oozes a well-practiced unapproachable air. But just as Hope is having to reassess her life and learn to be stronger and more independent, so Sam is forced to reshuffle the pieces of her world . . . Wild child Nicole Turner reckoned that she'd still be going for wild party nights with the girls, maybe singing a bit of karaoke, possibly snogging a guy here or there, and trying not to get fired for using the office phone to make personal phone calls. And grandmother Virginia Connell thought she'd still be happily married to her beloved Bill, teasing him for spending too much time on the golf course and not enough time walking the dog or cutting the grass. But they were all wrong. When life changes suddenly for each of these four women, thay have to look deep inside themselves to discover what they really want in order to survive the turmoil. And they discover that a sense of belonging, a loving family and good friends can make all the difference.
Information
Format:Paperback / softback
Pages:736 pages
Publisher:HarperCollins Publishers
Publication Date:12/01/2008
Category:
ISBN:9780007273935