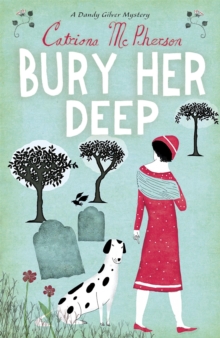 Description
Dear Alec, Remember my engagement yesterday? The annual duty luncheon for the Reverend Mr Tait from which and whom I expected only boredom?
I could hardly have been more wrong, Alec dear, and I am this minute packing to follow the Reverend home to his manse in Fife, there to attend a meeting of the Rural Womens' Institute.
Hardly a house party at which one would usually leap, I grant you, but not only is the man himself a perfect darling - imagine Father Christmas shaved clean and draped in tweed - but his parish, it seems, heaves with more violent passions than a Buenos Aires bordello.
A stranger, you see, is roaming the night and pouncing on the ladies of the Rural.
At least that's the tale they're telling and the one that Mr Tait told me, but since half the village think he's a figment and he only ever strikes at the full moon, I cannot help but wonder if there's something even odder going on . . . Much love and remember me fondly if the dark stranger gets me, Dandy xxCatriona McPherson's latest novel in the series, Dandy Gilver and a Spot of Toil and Trouble is now available for pre-order.
Information
Format: Paperback
Pages: 320 pages
Publisher: Hodder & Stoughton General Division
Publication Date: 06/03/2008
Category: Crime & mystery
ISBN: 9780340935330
Free Home Delivery
on all orders
Pick up orders
from local bookshops
Reviews
Showing 1 - 2 of 2 reviews.
Review by phoebesmum
16/06/2015
The third in the Dandy Gilver series, this takes a turn for the dark, weird, and, in places, decidedly nasty (a warning for the squeamish: something unpleasant and quite, quite unnecessary happens to a cat toward the end). It's also, to be brutally honest, a bit of a mess – the plot never quite hangs together, the characters behave in the most erratic and irrational manners imaginable, and the ending is decidedly unsatisfactory. (There is also a very notable problem with a point of view shift, again toward the end of the book. As these stories are first-person narrated, it presents a bit of a problem when the narrator's rendered unconscious …) A disappointment.
Review by KateBaxter
23/09/2015
Synopsis (from oodreads):After attending a luncheon with the Reverend Tait, Dandy finds herself traveling with the benevolent clergyman back to his home to attend a meeting of the Rural Women's Institute. A stranger has been roaming the parish at night and pouncing on the ladies of the Rural, though this stranger only seems to appear at a full moon. After some investigation, Dandy begins to wonder if the story of the stranger is simply used by the residents of the village to hide a darker, more sinister secret.
Also in the Dandy Gilver series | View all