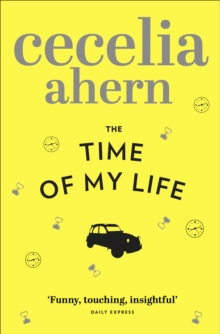 The Time of My Life
Paperback
Description
Lose yourself in the magical world of No.1 bestselling author, Cecelia Ahern. Are you taking your life for granted? Lucy Silchester is. She's busied herself with other stuff: friends' lives, work issues, her deteriorating car, that kind of thing.
But she's stuck in a rut - and deluding everyone. Only Lucy knows the real truth. Time for a wake-up call - a meeting with life. And life turns out to be a kindly, rather run-down man in an old suit, who is determined to bring about change - and won't let Lucy off the hook. Sometimes we all need to make time for our life...
Information
Format: Paperback
Pages: 512 pages
Publisher: HarperCollins Publishers
Publication Date: 01/05/2012
ISBN: 9780007350452
Free Home Delivery
on all orders
Pick up orders
from local bookshops
Reviews
Showing 1 - 3 of 3 reviews.
Review by alanna1122
16/06/2015
I liked this book. When reading Cecilia Ahern's books - I feel like I have to be in just the right mood. This one was the right book at the right time for me. I was ready to suspend my disbelief and not think too much about detail or feasibility of the book's central conceit. Lucy, the novel's central character, meets her "life" in person. Her life comes to help her get more on track to a happier and more fulfilling life. I liked Lucy. I thought she had enough flaws without being super whiny or dislikable. I did find myself pulling for her. I thought the story was good and moved along. It wasn't a pageturner though and I took my time going through it.I do wish that there was more Ireland in Ahern's books. I always read her novels because I love books set in Ireland - I feel like although technically set in Ireland - it could have taken place almost anywhere.Good book for the right mood - would be a good choice for a beach holiday.
Review by lewislibrary
16/06/2015
This is a book about Lucy and her life.....literally. Lucy told a lie several years ago which webbed into more lies, and now she is stuck in a job she hates, all alone and scared to try to develop any deep attachments to anyone again, and unable to move forward. So she gets a letter telling her she has an appointment with Life. She tries valiantly to ignore the letter and more keep arriving until she can no longer ignore her Life. She meets with him and he is determined to help her "turn her life around". Not only will you laugh and cry with Lucy, but you will start to feel the need to take stock in your own life and may even realize you have been putting your life on the back-burner as Lucy was.
Review by nbmars
16/06/2015
I have read a number of other books by this author, and enjoyed them. With this one, however, I could not even get through more than fifty or so pages. I had three main objections from the start. One is the protagonist. Not only is she vapid, but she keeps providing long narratives about her background and then saying, "Okay I lied." I found that not only annoying, but unfair to the reader. Second, the concerns of the protagonist were a bit too inconsequential to me, in the worse "chick-lit" sort of manner. And last but most importantly, the central premise struck me as totally ridiculous. Ahern has used magical realism before, but this time she goes way beyond the limits for which I could suspend belief.