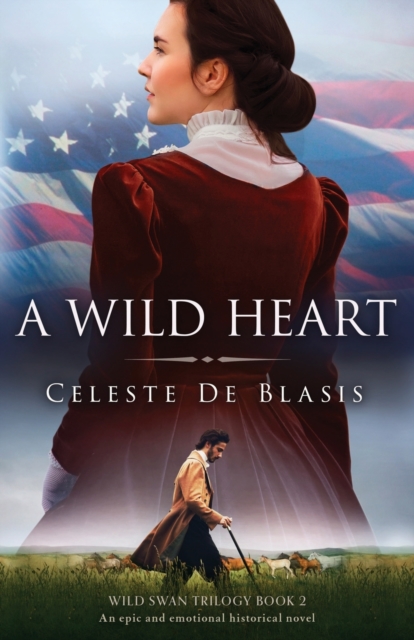 A Wild Heart : An epic and emotional historical novel
Paperback / softback
Description
"Made me laugh, cry and feel all the range of emotions." Goodreads reviewer ⭐⭐⭐⭐⭐
"My favorite book of all time." Goodreads reviewer ⭐⭐⭐⭐⭐
"Lots of love, lots of tears." Goodreads reviewer ⭐⭐⭐⭐⭐
"I just love it." Goodreads reviewer ⭐⭐⭐⭐⭐
Alexandria Falconer gazes around the honeyed land of Wild Swan, the extraordinary horse farm she built up from nothing in the border state of Maryland. It has been Alex's sanctuary through years of turmoil, and she has come of age in this land of opportunity. But the storm clouds of civil war are gathering, and Alex knows she has a choice to make to protect her family and maintain the precarious peace at Wild Swan.
When Alex's son dies tragically, she is shattered. It is only through caring for her adopted daughter, two-year-old Gincie, that Alex starts to overcome her grief and find comfort with her beloved husband Rane once more. But when Rane is called away to aid the Union war effort, she is left bereft.
Alex's heart is with Rane, but at home she has the sole responsibility of shielding Gincie and the rest of her family from the danger creeping ever closer to their door. When a charming soldier arrives at Wild Swan, Alex reluctantly gives him shelter, but the two form a bond and when news arrives of Gettysburg, she is torn with worry for men on both sides of the battlefield. With Gincie by her side, she undertakes a dangerous journey to fight for her family, her principles, and the man who holds her heart...
Celeste De Blasis' epic and heart-wrenching Wild Swan trilogy continues, available in eBook for the first time. Perfect for readers who love Poldark, Outlander and Daphne du Maurier.
A Wild Heart was originally published as Swan's Chance.
Readers love the Wild Swan trilogy:
"Read it OVER and OVER. The pages were falling out." Goodreads reviewer, 5 stars
Information
Format:Paperback / softback
Pages:654 pages
Publisher:Bookouture
Publication Date:08/12/2020
Category:
ISBN:9781800192256
Information
Format:Paperback / softback
Pages:654 pages
Publisher:Bookouture
Publication Date:08/12/2020
Category:
ISBN:9781800192256