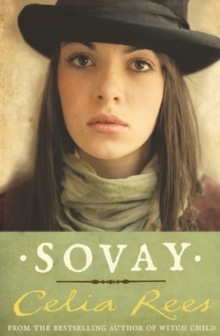 Description
Set against the backdrop of the French Revolution and its impact on British politics, this action-driven novel shows once again that Celia Rees is one of our very best writers for teenage readers.
Wild and beautiful, spoilt and wilful, Sovay finds that her cosseted upbringing in rural England has not prepared her for life as a highway robber, for defending the honour of her family or for trying to save herself from corruption and evil.
As Sovay becomes more and more embroiled in adventures she could never have imagined, a story of dark intrigue, thwarted passions and sinister intentions is revealed to her.
Will she be able to survive, and if she does so, at what cost?
Information
Format: Paperback
Pages: 432 pages
Publisher: Bloomsbury Publishing PLC
Publication Date: 06/07/2009
Category: Historical
ISBN: 9780747592013
Other Formats
EPUB from £5.59
Paperback from £6.59
Free Home Delivery
on all orders
Pick up orders
from local bookshops
Reviews
Showing 1 - 1 of 1 reviews.
Review by AdonisGuilfoyle
16/06/2015
I picked three French Revolution novels from the library catalogue, two YA and one historical fiction, and I have to say that Celia Rees' fast-paced and well researched story, about a daring young woman who follows her father to revolutionary Paris, beats the 'adult' novel into a cocked hat. If there is one way to lure teens into reading about history, Celia Rees knows the answer - dress up the dry dates and boring social customs in adventure and only give young readers time to think <i>after</i> finishing the story!Sovay Middleton is a brave and forthright young heroine, both sympathetic and inspiring. I must admit to being a little apprehensive of the initial premise - Sovay turns highway robber in a bid to test her lover's affections - but Rees meets the challenge with humour and high spirits. Based on a traditional ballad - 'Sovay, Sovay, all on a day/She dressed herself in man's array' - Rees' Sovay does find out if her spineless fiance is 'a man or no', but that, fortunately, is only the beginning of the story. What opens as a girls' own adventure quickly develops into a gripping tale of spies, revolution and betrayal, with gothic castles, hot air balloons and a dash of romance thrown in for good measure. Sovay uses her masculine alter ego to set right a few personal grievances, but also to access places normally denied to young women in late eighteenth century London, like the seedier underworld of the city. The appropriately revolutionary themes of liberty and equality are weaved throughout the narrative with subtle skill by the author, who uses Sovay's frustration to highlight the double standards of the times, but never at the cost of the heroine. Nor did I feel like I was being beaten over the head with the feminist manifesto, which so often occurs when writing about women in historical novels - but as Celia Rees writes in her notes, 'It is a common assumption that, to have the ring of authenticity, an eighteenth century heroine has to a passive, stay at home kind of girl, but these were turbulent times'. To tread that thin line between realism and revision is no mean feat, and I admire the author for getting the blend just right - Sovay knows her place, and various male relatives and associates insist on trying to 'protect' her throughout, but circumstances ultimately force her to act outside of gender, class and society, though never out of character. What really made <i>Sovay</i> such an enjoyable read for me, and a vast improvement on the other French Revolution novel I tackled this week, was how lively and engrossing the story was. I believed in Sovay and the other characters, and even the scenery came to life for me, thanks to Celia Rees' vivid descriptions of London and Paris. The Revolution is also recounted fairly, with hope for the future, but despairing of the many atrocities committed in the name of freedom: 'What is happening now is an anomaly. It is a diversion, not part of that great movement of change. It has to stop. In the name of the Revolution. All this killing has to stop.'Definitely recommended, to readers of all ages! Teens will love the action and intrepid young heroine, older readers will enjoy the fantastic plot, which is melodramatic and improbable, but good fun! Sovay's highwayman disguise put me in mind of the old Gainsborough film <i>The Wicked Lady</i>, with Margaret Lockwood and James Mason, while Dysart the cackling villain reminded me of Orczy's Chauvelin.