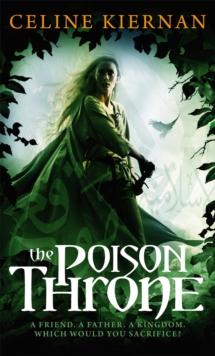 The Poison Throne : The Moorehawke Trilogy: Book One
Paperback
Description
YOUNG WYNTER MOOREHAWKE RETURNS TO COURT WITH HER DYING FATHER.
BUT HER OLD HOME IS CLOAKED IN FEAR. Once benevolent King Jonathon is now a violent despot, terrorising his people while his son Alberon plots a coup from exile.
Then darkness spreads as the King appoints Alberon's half-brother Razi as heir.
Wynter must watch her friend obey his father's untenable commands, as those they love are held to ransom. And at the heart of matters lies a war machine so lethal that none dare speak of it.
The kingdom would belong to its master, yet the consequences of using it are too dire to consider.
But temptation has ever been the enemy of reason.
Information
Format: Paperback
Pages: 512 pages
Publisher: Little, Brown Book Group
Publication Date: 01/03/2010
Category: Fantasy
ISBN: 9781841498218
Free Home Delivery
on all orders
Pick up orders
from local bookshops
Reviews
Showing 1 - 1 of 1 reviews.
Review by reading_fox
16/06/2015
Interesting début new fantasy from a longtime Irish graphical artist. Both the title and the cover art are somewhat misleading in terms of expectations about the plot, but once you've realised this it is an entertaining tale. The opening premise is not novel - returning home to discover that nothing is as you'd left it - but well enough executed with a few interesting twists.Wynter Moorehawke is a carpenter's daughter returning home with her father after 5 years in a foreign court. Much to her dismay the cats aren't talking to her and even the ghosts are quiet. Fortunately her father is more than a mere carpenter - he once saved the King's life and is known as a Lord Protector. This enables Wynter to find out what's been going on while she's away. Her two chief childhood friends were Razi the King's bastard, and his younger legitimate brother Ali - the formal Heir. It now seems that Ali has been suspected of treason, and fled, or maybe dead nobody is sure. Razi much unwillingly is now the heir - with all the duties and responsibilities thereof.It's all set in some 1400s Europe, with references to Morocco etc. However given the talking cats and ghosts there seems to be no particular reason for this. The precise country isn't specified. The author claims in an endnote to have researched some of the details so that there is an accurate portrayal of life then. I remain unconvinced.The characters are good, we get lots of empathy as Razi is torn between the demands of his King and his country, meanwhile Wynter is likewise torn between her friends and her father's ailing health.It's all obviously set up for the trilogy, but the ending comes fairly well signalled. But a few details do remain unexplained which is annoying. I'm looking forward to seeing what the next installment has to offer.
Also in the Moorehawke Trilogy series