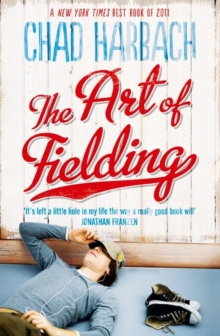 The Art of Fielding
Paperback
Description
A wonderful, warm novel from a major new American voice.Henry Skrimshander, newly arrived at college, shy and out of his depth, has a talent for baseball that borders on genius.
But sometimes it seems that his only friend is big Mike Schwartz - who champions the talents of others, at the expense of his own. And Owen, Henry's clever, charismatic, gay roommate, who has a secret that could put his brilliant college career in jeopardy.Pella, the 23-year-old daughter of the college president, has returned home after a failed marriage, determined to get her life in order.
Only to find her father, a confirmed bachelor, has fallen desperately in love himself.Then, one fateful day, Henry makes a mistake - misthrows a ball. And everything changes...
Information
Format: Paperback
Pages: 528 pages
Publisher: HarperCollins Publishers
Publication Date: 01/04/2012
ISBN: 9780007374458
Other Formats
Hardback from £12.95
EPUB from £4.49
eAudiobook MP3 from £11.60
Free Home Delivery
on all orders
Pick up orders
from local bookshops
Reviews
Showing 1 - 2 of 2 reviews.
Review by deargreenplace
16/06/2015
This is an engaging enough read with the usual gush of recommendations on the cover from Jonathan Franzen and the like.Henry Skrimshander likes to play baseball. He is spotted on the field by Mike Schwartz, a student at Westish College and persuaded to make the move from South Dakota to freshperson year in Wisconsin. He shares a room with Owen, who becomes involved with the President of Westish College. The arrival of Pella - the President's daughter - moves the plot on a little, but Henry and his baseball mojo are the main focus throughout.Essentially a story of college buddies, The Art of Fielding is light on drama and heavy on the emotions and struggles of menfolk. I was puzzled by the author's descriptions of Pella, who moves from someone with "saggy" breasts near the start of the book to someone of apparently ethereal beauty towards the end. To me, Harbach doesn't justify why comment should be passed on her attributes (or lack thereof) and the only further references to her body compliment her on how swimming and working in the college refectory have improved it somewhat. Casual misogyny? I don't know. Maybe the author didn't expect many women to read a book about playing baseball.
Review by Eyejaybee
16/06/2015
I had followed the hype that accompanied the publication of this book, with all the stories about the massive advance for a debut novel and the seemingly extravagant reviews. I was interested by the idea of the book but wondered whether it would just be too deeply steeped in baseball (a sport about which I know next to nothing). However, i am delighted that I chose to give it a go!Yes, it is about basbeall. The first half of the novel follows Henry, a naive young lad with a seemingly God-given talent for fielding at baseball. Mike Schwarz, captain of the baseball and football squads at Mid-Western college Westish spots him in an out-of-season match, and immediately realises that there is something rather special about the young man. Schwarz pulls some strings and is able to collate a scholarship package which brings Henry to Westish where he finds himself sharing a room with Owen Dunne. Owen is a bit of a renaissance man: an accomplished baseball player himself yet also a noted scholar and a debonair dresser. Owen is also extravagantly gay which acts as an intriguing counter to the "jock" stereotypes who abound in the baseball world.Meanwhile we are introduced to Guert Affenlight, debonair and gifted President of the college, renowned for his masterful exegeses of nineteenth century American literature (and particularly Melville). His life is comfortable and safe, and seems set to become even brighter when Pella, his beautiful renegade daughter, chooses to return home, fleeing form her imprudent and now failed marriage.As time moves on,Henry becomes ever more accomplished and seems set for a glittering career. However, suddenly in a low-key match the unprecedented occurs and Henry makes an error while fielding. For once his throw goes astray, with cataclysmic results.I particularly enjoyed the manner in which this game portrayed baseball - hitherto a sport that i had dismissed as stultifyingly dull. This novel certainly lays that misperception to rest, and I would rate this as one of the most enjoyable novels I have read all year.Go on - give it a go!
Also by Chad Harbach