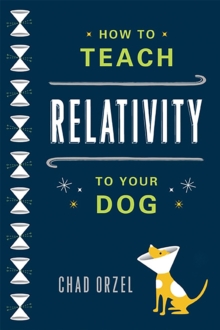 How to Teach Relativity to Your Dog
Paperback
Description
They say you can't teach an old dog new tricks. But what about relativity? Physics professor Chad Orzel and his inquisitive canine companion, Emmy, tackle the concepts of general relativity in this irresistible introduction to Einstein's physics.
Through armchair- and sometimes passenger-seat- conversations with Emmy about the relative speeds of dog and cat motion or the logistics of squirrel-chasing, Orzel translates complex Einsteinian ideas- the slowing of time for a moving observer, the shrinking of moving objects, the effects of gravity on light and time, black holes, the Big Bang, and of course, E=mc2- into examples simple enough for a dog to understand.
A lively romp through one of the great theories of modern physics, How to Teach Relativity to Your Dog will teach you everything you ever wanted to know about space, time, and anything else you might have slept through in high school physics class.
Information
Format: Paperback
Pages: 336 pages
Publisher: INGRAM PUBLISHER SERVICES US
Publication Date: 28/02/2012
Category: Popular science
ISBN: 9780465023318
Free Home Delivery
on all orders
Pick up orders
from local bookshops
Reviews
Showing 1 - 1 of 1 reviews.
Review by the.ken.petersen
16/06/2015
My reading of this book started so well. Mr Orzel very neatly sidesteps the issue of appearing to patronise his audience by talking to his dog. It is, therefore, not the reader, but a dog who cannot grasp the physics of relativity. Well, I will readily concede that the dog is more intelligent than me, because I still cannot see the logic of relativity.I read the early pages where the author explains the idea that things appear different from the perspective of a moving object as compared with a stationary one. "Ah", I thought,"this is beginning to make sense". Then Mr Ozel explained to his dog that, a moving object shrinks along its length, when viewed by a stationary observer but, remains the same length and has the background shrink if one is the moving object. Now, I can accept that as a distortion of perspective, but when I am told that, within the reality of the individual frame, both these things actually happen.....er, no. On one occasion in my life, I was foolish enough to get very drunk. The next morning, my bedroom was spinning in a most annoying fashion; closing my eyes and then re-opening them did nothing to halt this disturbing motion and as much logic as I could muster, under the circumstances, failed to affect the circular motion of my wardrobe, bedroom window et al. Even in my less than perfect mental state, the idea that my mind was functioning correctly and that the room was revolving like the plate in a microwave, never seemed like a reasonable explanation and things actually shrinking and being the same size, at the same time, seems even less likely to my brain.Mr. Orzel has written a very readable book but, whether the physics are true or no, I find myself unprepared to jettison the required amount of common sense to accept it. This makes reviewing this book difficult: the author has patiently explained and it is my brain that screams, "NO!!!!!!!!!" I cannot blame him for that. I understand a little better what I fail to be able to believe - rather like an almost logical explanation of fairies! If you can open your mind to this new "reality", then this is a book that you should read. It takes one step by step through the workings of relativity.