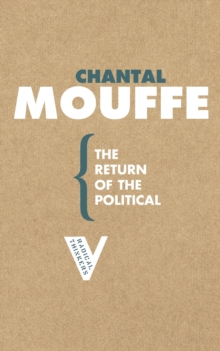 The Return of the Political
Paperback
Description
An original and powerful statement which enables us to close the widening gap between liberal democracy and the events of a disordered world.
Information
Format: Paperback
Pages: 240 pages
Publisher: Verso Books
Publication Date: 21/10/2005
ISBN: 9781844670574
Free Home Delivery
on all orders
Pick up orders
from local bookshops
Reviews
Showing 1 - 1 of 1 reviews.
Review by lukeasrodgers
16/06/2015
Just finished this great book. Chantal Mouffe, who has collaborated in the past with Ernesto Laclau, steers a very persuasive course between liberal political philosophers like Rawls and Dworkin and their communitarian critics, like MacIntyre and Sandel.The central insight of the several essays collected in this book is that we must strive for new articulations of political liberalism that will articulate new subject positions, new radical democratic identities, while at the same time not falling prey to the nostalgic communitarian longing for a premodern community united by an idea of the good.Mouffe frequently cites Claude Lefort (as well as Norberto Bobbi) as providing the key insight into modernity: we live in a society where the position of power and knowledge is empty, where anyone who fills that position must acknowledge that they do not occupy it authoritatively. In other words, the modern condition is the priority of the right over the good (a central liberal tenet): there is no more king, no more sovereign figure justified by a meta-narrative that could be representative of society.In the face of the modern plurality of conceptions of the good life (a plurality which Mouffe argues, along with Raz, we must see not just as a "fact" to be dealt with, but as a value central to liberal democracy) we must prioritize individual rights and forget the dream for an organic community united by a vision of the good life (here we have a linkage with Jean-Luc Nancy's The Inoperative Community, though I found that this book exhausted its stockpile of interesting ideas in the first few pages). Though Mouffe takes a great deal of inspiration from Carl Schmitt, one of the points she faults him on is (naturally) his organicist dream for society. As he says, democracy (the equivalence, the homogeneity of the governed and the governing) is compatible with fascism and communism; it is the protection of individual rights and the concomitant public/private division that is at odds with authoritarin societies, and that Schmitt sees as being in fundamental contradiction with democracy. Mouffe argues convincingly that this tension between the homogeneity imposed by democracy and the individualism that is part of liberalism is an essential and productive tension of modern liberal democracies, and we should not seek to overcome it. We should, with Derrida (and with Habermas, some would argue) see democracy as an ever-expanding horizon–democracy a venir, to come.All of the essays in this book are eminently readable and, despite their revolving around a core of very related ideas, each essay has something unique to offer. Moreover, I would say that the essays that appear, from their titles, to have the most parochial concerns (those devoted to feminism, Schmitt, Bobbio and C B MacPherson) are the most valuable. If you just getting into modern political philosophy I highly recommend this book.Verdict: somewhere between 4.5 and 5 stars out of 5.By the way, I have to commend Verso for their Radical Thinkers Series. So far I've read this book by Mouffe, Baudrillard's The System of Objects (which is by far the best Baudrillard I've ever read), and have Derrida's The Politics of Friendship on the Christmas-books-to-read list.