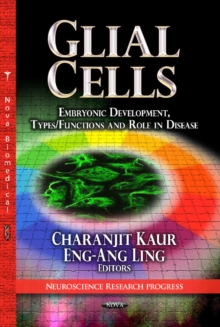 Glial Cells : Embryonic Development, Types / Functions & Role in Disease
Hardback
Description
This book contains nine chapters which include contributions by different experts who have been very active in glia research over the past several years.
The contributions are comprehensive keeping abreast with the latest developments on glia research.
Different aspects of glia research are discussed, such as their embryonic development and role in the developing and adult brain, both in health and disease.
Chapter One deals with the development of macroglial cells; Chapter Two addresses the role of glial cells in periventricular white matter damage in hypoxic neonatal brains; the role of microglia and astrocytes in neuroinflammation has been addressed in Chapter Three; involvement of glia in the pathology of variant Creutzfeldt-Jakob disease and in osterarthritic pain is detailed in Chapters Four and Seven respectively; Chapter Five deals with examination of astrocytic markers in adult and pediatric neurological disorders with regard to changes in cerebrospinal fluid and/or serum levels of glial fibrillary acidic protein and S100 calcium-binding protein B; Chapter Six focuses on the modulation of glial cell responses by insulin; Chapter Eight describes the current understanding of the biophysiological properties, proposed functions and modulatory molecules of BK channels (a subtype of Ca2+-activated K+ (KCa) channels) in microglia; and the physiological interactions between neurons and glia are discussed in chapter nine.
Free Home Delivery
on all orders
Pick up orders
from local bookshops