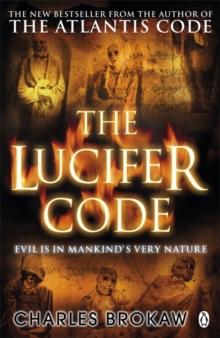 The Lucifer Code
Paperback
Description
From the bestselling author of The Atlantis CodeA secret scroll remains hidden deep in an ancient sanctuary.
It is guarded by a sacred order who await to unleash its true powers and bring doomsday upon mankind.Only one man - Dr. Thomas Lourds, the world's foremost scholar of ancient languages, who we first met in the bestselling novel The Atlantis Code - can safely bring this secret scroll to its rightful place in history.Lourds soon becomes the focus of a deadly manhunt, taking him from Istanbul through Eastern Europe, right to the heart of the Vatican, where the forces of good and evil will collide...
Information
Format: Paperback
Pages: 528 pages
Publisher: Penguin Books Ltd
Publication Date: 24/06/2010
Category: Thriller / suspense
ISBN: 9780241951941
Free Home Delivery
on all orders
Pick up orders
from local bookshops
Reviews
Showing 1 - 1 of 1 reviews.
Review by mrn945
16/06/2015
Sometimes you just need a good thriller to take your mind off things. Normally I'm not too picky about this genre, so long as there is an interesting backstory I am quite happy to lose myself for a few hours.However, sometimes a novel is just too convoluted to be considered. The premise behind this story was interesting. The plot is that a mystery chapter written by the Apostle John which set out how the world could get rid of the Devil had been lost years ago and this linguist Lourdes is the only man in the world capable of finding and reading it.Well, it certainly had potential. However, I simply could not get past the writing. The characters were highly undeveloped, and the dialougue was clunky. What could have been an action packed thriller was instead excruciatingly slow. There was too many 'bad' guys, and quite frankly I didn't care about any of them.I also had a serious problem with the descriptions of the characters. While I understand this is fiction - therefore there can be an element of fantasy - the female characters read more like a wet dream than individuals. Lourdes read like what the author himself imagined he could be, and the women like those he'd like to have sex with - in other words highly unrealistic.I love to read for the sake of reading. Rarely do I read a novel with frequent sighs, turning the pages to see how many left I HAVE to read. I struggled to get through this novel and would not be tempted to read it again. Unfortunately, though I wanted to like this book, I simply cannot recommend it in good conscience.
Also in the Thomas Lourdes series | View all