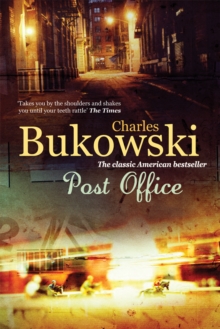 Description
Henry Chinaski is a lowlife loser with a hand-to-mouth existence.
His menial post office day job supports a life of beer, one-night stands and racetracks.
Lurid, uncompromising and hilarious, Post Office is a landmark in American literature, and over 1 million copies have been sold worldwide.
The new edition is augmented with an anecdotal introduction by the modern Welsh cult-literary author, Niall Griffiths - a writer who was working in a British post office when he first read Bukowski's Post Office.
Information
Format: Paperback
Pages: 176 pages
Publisher: Ebury Publishing
Publication Date: 02/04/2009
ISBN: 9780753518168
Free Home Delivery
on all orders
Pick up orders
from local bookshops
Reviews
Showing 1 - 5 of 9 reviews.
Previous | Next
Review by clstaff
16/06/2015
Masterful. The futility of mundane but gainful employment at the expense of meaning is portrayed with Bukowski's trademark humour and style. This is Bukowski's first novel and a decade of his life in a nutshell. Hank Chinaski is often offensive and insensitive, at other times gentle and insightful, it matters little, original writers are a rarity and Bukowski stands out as an innovator without peer.
Review by theboylatham
16/06/2015
6/10.
Fairly comical life-story of a drunkard and his working life at the post office.
 
Review by pgmcc
16/06/2015
I have to admit that my first motivation for reading this novel was that it's set in the post office and I work on a postal organisation. This could make my assessment somewhat skewed since much of the pleasure I took from the book was derived by my comparison of the US Post Office working environment with that of my own employer.The story is narrated by the main character, Hank Chinaski. We learn very early that Hank is an alcoholic with a liking for women and gambling at the racetrack. Set in the 1960s it is understandable how Hank is not exactly the most PC person around, and how his attitude to women is not what one would expect from the "modern" man.Chinaski's career in the USPS and his relationships with women closely reflect Bukowski's own life and the detailed descriptions of attitudes and procedures in the post office demonstrate the author's intimate knowledge of the environment.This novel successfully presents the thoughts and motivations of a man drifting through life with the burden of alcohol addiction, and who, at the end of the day, has a real love for Betty, his first common-law wife, though he doesn't realise it until it is tragically too late.While the book deals with much pathos Bukowski never loses his sense of humour and the ironic. At the very start he presents the rigid postal service code of ethics and then shows how reality runs counter to the regulations.The language is brutal and raw, but the lives and circumstances portrayed were brutal and raw.By the way, the situations, practices and attitudes portrayed in the novel do reflect what happens, or has happened, where I work. For the first fifty pages I was constantly saying to myself, "Yup! That's happened; Yup! I could see how that could happen; etc…"An introduction by Niall Griffiths indicates that the UK's Royal Mail also has the same attributes as the US Post Office.
Review by eampiart
16/06/2015
A quick read, quite enjoyable, I like Bukowski's style, the pages turn themselves. No philosophical deepness, no thinking about what this or that means, just enjoying a great book, spending a nice afternoon.
Review by Salmondaze
16/06/2015
Bukowski's first book shows the same writing talent as Factotum and stands as a better example of "Beat-Generation" writing than any of Jack Kerouac's snooze-fests. Both of these books read like a breeze and are superior to the overrated On The Road.