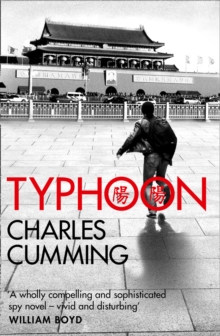 Description
From the winner of the CWA Ian Fleming Steel Dagger 2012 for Best Thriller of the Year comes a gripping and suspenseful spy novel.
Perfect for fans of John le Carre, Charles Cumming is `the master of the modern spy thriller' (Mail on Sunday)Hong Kong, 1997.
Only a few short months of British rule remain before the territory returns to Chinese control.It's a feverish city. And the spooks are hard at work, jostling for position and influence.
So when an elderly man emerges from the sea, claiming to know secrets he will share only with the British Governor, a young MI6 officer, Joe Lennox, sees the chance to make his reputation.But when the old man, a high-profile Chinese professor, is spirited away in the middle of the night by the CIA, it's clear that there's a great deal more at stake here than a young spy's career.The professor holds the key to a sinister and ambitious plan that could have catastrophic repercussions for the world in the twenty-first century...
Information
Format: Paperback
Pages: 464 pages
Publisher: HarperCollins Publishers
Publication Date: 22/04/2014
ISBN: 9780007487189
Free Home Delivery
on all orders
Pick up orders
from local bookshops
Reviews
Showing 1 - 1 of 1 reviews.
Review by Eyejaybee
16/06/2015
Joe Lennox seems to be the perfect spy. Having graduated from Oxford with a first class degree in Mandarin in the mid 1990s he is, almost as a matter of course, recruited into MI6. Equally predictably, he finds himself posted to Hong Kong in the run up to the handover of the colony back to Chinese rule in 1997. All in all, his career seems to be developing entirely as he and MI6 might have planned.Shortly before the handover an aging Chinese man swims across the straits to land in Hong Kong. He is found by a British soldier from the Black Watch regiment who takes him into custody. This is no ordinary refugee, however. He speaks exceptionally good, idiomatic English and recognises the Black Watch insignia.He is removed to a safe house for questioning, which is undertaken by Lennox, who establishes a rapport him. We learn that he is Professor Wang, and he gradually spins a story about potential insurrection in Western China where the Uighur Muslim community is showing signs of rising up against decades, or even centuries, of suppression by the Han Chinese. Wang seems able to offer a wealth of detail, and Lennox thinks that he may be on to a major espionage coup.Lennox never gets to find out. While he is taking a break for sleep, Wang is spirited away by some of Lennox's MI6 colleagues, working in association with Miles Coolidge, senior CIA operative for that area. No explanation is forthcoming, and Lennox finds himself out in the cold.Seven years later and the world, post-911 is completely different. Lennox is back in the Far East, now based in Shanghai, as is Coolidge.Cumming spins a complicated tale but never lets the reader's attention flag. The plot is certainly on a par with le Carre at his finest. Cumming can't quite match le Carre's unique prose style, of course, but then who can? Lennox is an engaging and likeable character, and his relations with colleagues, counterparts from other agencies and also the 'civilian' bystanders whom he deals with are all plausible.This was a very entertaining novel, and a worthy heir to le Carre's 'The Honourable Schoolboy'.