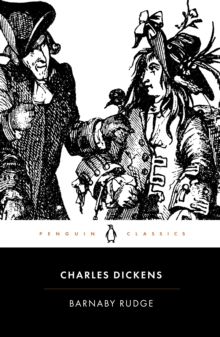 Description
Charles Dickens's Barnaby Rudge is a vivid portrait of London's descent into anarchy, where 'King Mob' rules the streets, and innocent lives are swept up in the chaos.
This Penguin Classics edition is edited with an introduction and notes by John Bowen.Set against the backdrop of the Gordon Riots of 1780, Barnaby Rudge is a story of mystery and suspense which begins with an unsolved double murder and goes on to involve conspiracy, blackmail, abduction and retribution.
Through the course of the novel fathers and sons become opposed, apprentices plot against their masters and Protestants clash with Catholics on the streets. And, as London erupts into riot, Barnaby Rudge himself struggles to escape the curse of his own past.
With its dramatic descriptions of public violence and private horror, its strange secrets and ghostly doublings, Barnaby Rudge is a powerful, disturbing blend of historical realism and Gothic melodrama.This edition is based on the one-volume publication of Barnaby Rudge, reproducing all the original illustrations by 'Phiz' and George Cattermole.
Appendices include a map of London at the time of the Gordon Riots and the preface to the 1868 edition.Charles Dickens is one of the best-loved novelists in the English language, whose 200th anniversary was celebrated in 2012.
His most famous books, including Oliver Twist, Great Expectations, A Tale of Two Cities, David Copperfield and The Pickwick Papers, have been adapted for stage and screen and read by millions.
If you enjoyed Barnaby Rudge, you might like Dickens's A Tale of Two Cities, also available in Penguin Classics.'One of Dickens' most neglected, but most rewarding, novels'Peter Ackroyd
Information
Format: Paperback
Pages: 800 pages
Publisher: Penguin Books Ltd
Publication Date: 27/02/2003
ISBN: 9780140437287
Other Formats
Paperback from £2.50
Hardback from £10.19
CD-Audio from £35.25
eAudiobook MP3 from £8.00
EPUB from £1.94
Paperback / softback from £14.35
Free Home Delivery
on all orders
Pick up orders
from local bookshops
Reviews
Showing 1 - 4 of 4 reviews.
Review by fourbears
16/06/2015
I've read this one twice before and always like it more than it deserves. It's one of two historical novels by Dickens, a distinction many readers don't make because all his novels have historical settings for us now. But A Tale of Two Cities (1859) and Barnaby Rudge were both set before Dickens' own time and dealt with a similar subject, mob rule: Barnaby Rudge with the No Popery riots of 1780 and A Tale of Two Cities with the French Revolution.I say I like Barnaby Rudge "more than it deserves" because while the novel has a complex plot that's not nearly as episodic as his previous novel (The Old Curiosity Shop, reviewed here in April of this year) it's not as well-developed as later novels (Bleak House in particular). What's brilliant about the novel is how Dickens follows the rioters, generally disaffected members of society who are ready enough to believe that they are "held back" because Catholics are doing the 18th century equivalent of "taking all the jobs". Barnaby, raised by his mother and befriended by a talking raven, is described as an "idiot" and is clearly (if not consistently, especially if you consider his speech) somewhat simple. He's been described by critics as derived from Wordsworth's "Idiot Boy", a child of nature who doesn't understand the wicked world of men. His mother knows that his father killed a man just at the time of his birth and attributes Barnaby's affliction to that event. She dedicates her life to his welfare.But Barnaby is drawn into the riots on the side of Gordon's No Popery bunch, not understanding the issues at all, but seeing himself as brave and true and fighting for a good cause. Dickens makes that believable as he makes the rioting and the violence believable. Clearly he understood crowd psychology and the manipulation of ideas. George Gordon might have come up with the ideas that spawned the riots, but it was his cohorts who used those ideas and used him to appeal to the disaffected.There's the usual compliment of interesting characters, among them a hangman who takes pride in his noble profession, the backbone of the English legal system in his view, and thinks he does the job so expertly that those who are hanged are grateful to him, but who joins the rioters, is caught himself and dragged kicking and screaming to be hanged himself, not at all grateful to the new hangman. There are a couple of pairs of crossed lovers who get together in the end and well as parents and children who are estranged and reunited.
Review by lorieac
16/06/2015
Excellent and timely. Dickens was a great storyteller.
Review by mbmackay
16/06/2015
Dickens' fifth published book is an historical novel built around the Gordon riots of 1780. The characters seem to be more realistic and better developed than in earlier books. The villains are more believable - Hugh was an abused and neglected orphan who grows to be an abusive and uncontrolled adult; John Chester is a picture of an silver tongued upper class villain, Dickens' first real villain from that class; and Gashford as the duplicitous and conniving assistant to Lord Gordon. These characters are so much better than the one dimensional bad guys (like the dwarf in the Old Curiosity Shop) of previous works. The comic characters are also well done in this book. The slow thinking publican at the Maypole; Mrs Varden of "an uncertain temper"; Miggs the waspish maid are all well described and a lot of fun.Unfortunately, Dickens reverts to simplification of good and bad in his portrayal of the riots. He paints a picture where a village idiot and the Crown's hangman become representative leaders of the riots. All a little disappointing.So, while Wikipedia reports this as a "less esteemed" work of Dickens, I found it to be a good novel, but a poor historic novel. Read January 2012.
Review by AliceAnna
16/06/2015
A mixture of fact and fiction and an indication of things yet to come. The historical perspective of A Tale of Two Cities plus a hint of future plot manipulation and twists and turns best exemplified by Great Expectations. The Gordon Riots of 1780 is the backdrop, but as always, human nature is paramount to the tale. Religion was not the important factor to these characters. Despite the cries of 'No Popery,' each and everyone had a hidden agenda. The character of Barnaby himself was less than consistent in tone, but most of the characters were very well-drawn and, frankly, the female characters were a breath of fresh air after that insipid Nell. Overall, a good read.