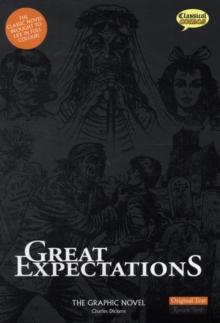 Great Expectations : Original Text
Paperback
Description
The classic novel brought to life in full colour! 'I never saw my father or my mother, and never saw any likeness of either of them'.
No classical collection would be complete without this well-loved Dickens title.
The wonderful tale of Pip, Miss Havisham, and the spiteful Estella is retold here with fresh enthusiasm contained within rich Victorian ambiance, for a wonderful reading experience.
Information
Format: Paperback
Pages: 160 pages, chiefly col. Illustrations
Publisher: Classical Comics
Publication Date: 01/01/2009
Category: Classic fiction (pre c 1945)
ISBN: 9781906332099
Free Home Delivery
on all orders
Pick up orders
from local bookshops
Reviews
Showing 1 - 5 of 10 reviews.
Previous | Next
Review by abealy
16/06/2015
Charles Dickens really knows how to write a comic book. And Classical Comics knows how to publish one. The idea of publishing graphic novels of classic literature is long overdue (not to denigrate the original run of Classic Comics) and this company has put a lot of love, care and quality into all the works they have so far interpreted. Great Expectations is one of my favorite Dickens novels and several graphic editions have been published in the past. None however have tapped into not only the story but the actual language of Dickens and it makes for wonderful reading.I will not summarize the story here (you should know it!), but I will say this is the perfect introduction to the world of Charles Dickens for not only the young but everyone.If I had one quibble to make it would be that the art, though professional and appropriate, lacks any real character of its own and seems satisfied to visualize the story and illustrate the plot – and with a text by Charles Dickens this is probably sufficient.
Review by brochettes
16/06/2015
Ok, first off I have to admit that I am not a fan of Charles Dickens. I know, sacrilege; but the only book of his I have ever managed to get to the end of is a Christmas Carol. So, how do I review a book which is based on an author I normally don't enjoy reading- do I just concentrate on how successfully it has been transmitted onto graphic novel format, or do I also review the original plot? Unfortunately, I will not be able to judge how true it stays to the original text, as I've never made it past the first few chapters of that. However, what I can say is that I did not feel that there was any vital content missing- I felt that I had a good understanding of the story throughout, and that transitions from one scene to the next were fairly smooth.I am not exactly a connoisseur of graphic novel artwork, but I thought that the drawings were beautiful and appropriate for the setting of the novel.While I made it through to the end this time, did I enjoy it? Well, yes and no- I am glad that I now know the gist of what is generally considered a must-read classic, but will it make me read the original? No; because while I appreciated the execution, I never really managed to get into the story. This however cannot really be blamed on the graphic novel; I simply found the main characters pretty unlikeable and was thus not really ever particularly interested in what may happen to them. So, in terms of reviewing the original plot: I did not really enjoy it, and turning it into graphic novel format has not changed this. However in terms of bringing the classics to a new audience, I still think this is a worthwhile approach- it is certainly a lot less painful to get through than the original book, and may thus introduce Dickens to a young reader who may not otherwise ever pick him up; and if, unlike myself, that reader likes the protagonists and enjoys the story, it may lead to further exploration of other classic works, which is always a good thing.
Review by wendyrey
16/06/2015
Firstly the concept. This is essentially an abridged educational edition in a comic format and is supported by worksheets and contextual material for classroom use. The graphics are really quite decent and a lot of thought and effort has been put into the abridgment. I am not a teacher so have no idea what age and ability this is aimed at but I could see it appeal to boys where the familiar medium may make the work more approachable.However Great Expectations is my least liked Dickens, Pip remains an ungrateful snobbish arrogant pain, Estella is spoilt and Miss H clinically bonkers . The rest of the characters are caricatures, the plot full of improbable coincidences and Dickens doesn't half go on - he was paid by the word and it shows.The format, I think, works though and the comic editions of (unabridged?) Shakespeare plays look appealing. Where GE comes in two versions - abridged original and 'quick read' , the Shakespeare has three - original, 'translated' to modern English and quick and I might get the original as I have never got on with plays in just words and I could see the others used foe adults learning english.Like the concept , don't like this particular work.
Review by Goldengrove
16/06/2015
I'm sorry to say that I was disappointed with this version of Great Expectations. The problem (as I found with 'A Christmas Carol' in the same format) is that reducing Dickens to dialogue alone removes much of what makes him a great writer. The pictures are well done, and the story put across, but it seems thin and weakened. I suppose the main problem is that I am not the proper audience for these adaptations; the style of the pictues does not appeal to me at all, and the loss of the main part of the text is irritating. These are aimed at schoolchildren, presumably with the intention of encouraging them to read the original later. It does worry me, however, that knowing how the story ends will just remove the incentive to make the extra effort to read Dickens' (by modern standards) wordy prose.
Review by angrystarlyt
16/06/2015
Frankly, I'm quite impressed with this adaptation. I am very fond of Great Expectations and, unlike the Frankenstein comic adaptation I also read, this book encapsulates the spirit of the novel really well. The drawings are lovely and never look rushed, and the story is as interesting as ever. For pedagogical purposes, too, the back information is great--I can imagine assigning this to my students and having them note the easily digestible contexts offered in in the back.