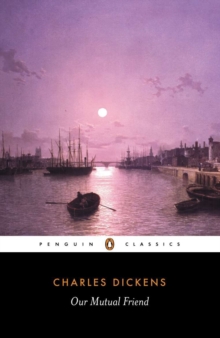 Our Mutual Friend
Paperback
Description
Charles Dickens's last complete novel, Our Mutual Friend is a glorious satire spanning all levels of Victorian society, edited with an introduction by Adrian Poole in Penguin Classics. Our Mutual Friend centres on an inheritance - Old Harmon's profitable dust heaps - and its legatees, young John Harmon, presumed drowned when a body is pulled out of the River Thames, and kindly dustman Mr Boffin, to whom the fortune defaults.
With brilliant satire, Dickens portrays a dark, macabre London, inhabited by such disparate characters as Gaffer Hexam, scavenging the river for corpses; enchanting, mercenary Bella Wilfer; the social-climbing Veneerings; and the unscrupulous street-trader Silas Wegg.
The novel is richly symbolic in its vision of death and renewal in a city dominated by the fetid Thames, and the corrupting power of money. Our Mutual Friend uses text of the first volume edition of 1865 and includes original illustrations, a chronology and revised further reading.
As Adrian Poole writes in his introduction to this new edition, 'In its vast scope and perilous ambitions it has much in common with Bleak House and Little Dorrit, but its manner is more stealthy, on edge, enigmatic.'Charles Dickens is one of the best-loved novelists in the English language, whose 200th anniversary was celebrated in 2012.
His most famous books, including Oliver Twist, Great Expectations, A Tale of Two Cities, David Copperfield and The Pickwick Papers, have been adapted for stage and screen and read by millions. If you enjoyed Our Mutual Friend, you might like Dickens's The Mystery of Edwin Drood, also available in Penguin Classics. 'The great poet of the city. He was created by London' Peter Ackroyd
Information
Format: Paperback
Pages: 928 pages, facsimiles
Publisher: Penguin Books Ltd
Publication Date: 26/06/1997
ISBN: 9780140434972
Other Formats
Paperback from £2.50
Hardback from £11.25
CD-Audio from £12.59
EPUB from £3.99
PDF from £4.66
Paperback / softback from £16.55
eAudiobook MP3 from £7.20
Free Home Delivery
on all orders
Pick up orders
from local bookshops
Reviews
Showing 1 - 4 of 4 reviews.
Review by jwhenderson
16/06/2015
Charles Dickens' penultimate novel, and last complete one, is a compendium of the best and worst of his art. The characters are present, perhaps too many, but they lack the fresh life and spirit of earlier works like Dombey & Son or Bleak House.The metaphors are present, but the waters of Our Mutual Friend are dark and foreboding, ultimately leading to death; while the waters of earlier works, such as Dombey again, hold the promise of life. It seems that Dickens is worn out and it shows in the lack of energy; but in spite of this there remain beautiful passages and complex plotting, perhaps his greatest. His critique of social class and society surrounds the story with the caricature of the Veneerings at its apex. Within the story he uses his theme of false identity as well as he ever has with one of the central characters, John Harmon, the prime specimen. But he fails to provide a central character with whom we can identify as he did so well in David Copperfield, Bleak House and Great Expectations. The Boffins, who are very appealing at first, appear to change their moral character and thus disappoint (at least Mr. Boffin) while the most appealing characters, like Jenny Wren or Lizzie Hexam, are not substantial enough or central enough to carry the novel. So we have a novel that receives a mixed grade from this reader. I finished it longing for the early Dickens humor and the later Dickens greatness but was left with a bit of that but not enough to sustain the 800 pages he had devoted to the story of Our Mutual Friend.
Review by rachelnelligan
16/06/2015
Certainly my favourite Dickens, and one of my favourtie books ever. Eugene Wrayburn is brilliant, Bradley Headstone truly disturbed and disturbing. It's incredible how Dickens managed to draw the character with such small actions. All the characters are drawn perfectly and the plot is wonderfully intricate and absorbing. It is difficult to get into and you might wonder what it's all about to start with, but it's worth sticking with!
Review by idiotgirl
27/01/2016
One of my favorites. First read it on a train. Beginning of my love affair with Dickens. Read it this time on my kindle.<br/>
Review by TheEditrix
27/01/2016
Whew! Epic, amazing, messy book. I'm glad I re-read it, and I'm glad I've finished re-reading it.<br/><br/>LIZZIE EUGENE FOREVER.