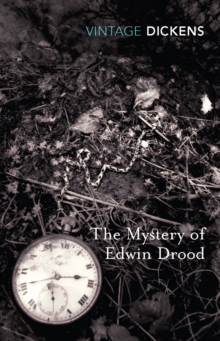 The Mystery of Edwin Drood
Paperback
Description
WITH AN INTRODUCTION BY MATTHEW PEARLThe story of the fate of Edwin Drood is a mystery within a mystery.
When young Edwin disappears after dinner on Christmas Eve and his watch and chain are later found in the nearby river, everyone suspects foul play.
Could one of Edwin's acquaintances have murdered him - and, if so, what could their motive be? And how does this shocking event in a quiet cathedral town connect to the opium dens of London?
Tragically, the mystery is destined never to be truly solved, as Dickens died before he could finish this novel - all that is left are the clues that can be found in the completed chapters.
Information
Format: Paperback
Pages: 400 pages, b/w integrated
Publisher: Vintage Publishing
Publication Date: 05/02/2009
Category: Classic fiction (pre c 1945)
ISBN: 9780099518891
Other Formats
Paperback from £2.50
Hardback from £9.15
EPUB from £1.94
PDF from £2.54
Paperback / softback from £12.95
Free Home Delivery
on all orders
Pick up orders
from local bookshops
Reviews
Showing 1 - 1 of 1 reviews.
Review by getrus
23/09/2015
I honestly still do not know what to say about The Mystery of Edwin Drood. It is possibly one of the only mysteries which caught me off guard about how it ends. I did not expect it. But I need to say that the book is not finished. Dickens died before he was able to finish it and I don't even think he knew how it was going to end.Anyway, Edwin Drood is a young man under the care of John Jasper. He is engaged to Rosebud. Well, not exactly engaged, there is an understanding (from when they were both young) that they would marry. Friends with Jasper is Mr. Crisparkle a parson who lives with his mother. Also included in this party is Mr. Grewgious, of when Rosebud is a ward.Mr. Crisparkle, soon after the novel begins is charged with the education of Neville and Helena Landless. Neville is known for having a temper and falls in love with the beautiful Rosa and he thinks Edwin does not deserve her. Helena becomes Rosa's good friend and confidant to which she tells Helena about Jasper's love (obsession I call it) for her. (I should mention that Jasper happens to be her music teacher.)To end this rather quickly, we skip forward about fifty pages, and Edwin and Rosa have ended their arrangement having love for one another only that of brother and sister with no romantic inclination at all. Shortly after this agreement is made, Edwin goes missing and is presumed dead. Most everyone thinks poor Neville did it (He threatened Edwin a couple of times.) They were never able to prove one way or another, but Neville still was shunned by most of the town.The book skips forward six months and Jasper is still adamant it was Neville, Crisparkle defends his charge, Neville lives in seclusion seeing only Crisparkle and Helena, and Rosa finds a way to run off from Jasper's unwanted attentions.And yet we are without any explanation as to what happened to Edwin Drood.Dickens is amazing. This being his last book he has writing an interesting and engaging story down pat. I extremely enjoy his use of nicknames for most of the characters (which at times were confusing); he calls Crisparkles mother the China Shepardess, and Rosa is given the nickname of Pussy by Edwin, and the opium dealer is given the name of Her Royal Highness the Princess Puffer. (I didn't mention that Jasper has an addiction to opium.)