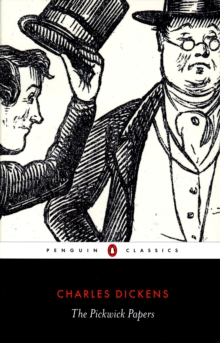 The Pickwick Papers
Paperback
Description
Charles Dickens's first published work, The Pickwick Papers was an instant success that captured the public imagination with its colourful characters and farcical plot.
This Penguin Classics edition of Charles Dickens's is edited with notes and an introduction by Mark Wormald.Few first novels have created as much popular excitement as The Pickwick Papers - a comic masterpiece that catapulted its twenty-four-year-old author to immediate fame.
Readers were captivated by the adventures of the poet Snodgrass, the lover Tupman, the sportsman Winkle and, above all, by that quintessentially English Quixote, Mr Pickwick, and his cockney Sancho Panza, Sam Weller.
From the hallowed turf of Dingley Dell Cricket Club to the unholy fracas of the Eatanswill election, via the Fleet debtors' prison, characters and incidents spring to life from Dickens's pen, to form an enduringly popular work of ebullient humour and literary invention.This edition is based on the first volume edition of 1837, and includes the original illustrations.
In his introduction, Mark Wormald discusses the genesis of The Pickwick Papers and the emergence of its central characters.Charles Dickens is one of the best-loved novelists in the English language, whose 200th anniversary was celebrated in 2012.
His most famous books, including Oliver Twist, Great Expectations, A Tale of Two Cities, David Copperfield and The Pickwick Papers, have been adapted for stage and screen and read by millions.If you enjoyed The Pickwick Papers, you might like Dickens's A Christmas Carol and Other Christmas Writings, also available in Penguin Classics.'Dickens sees human beings with the most intense vividness ...
Consequently his greatest success is The Pickwick Papers'George Orwell'One of my life's greatest tragedies is to have already read Pickwick Papers - I can't go back and read it for the first time'Fernando Pessoa
Information
Format: Paperback
Pages: 848 pages
Publisher: Penguin Books Ltd
Publication Date: 24/02/2000
Category: Classic fiction (pre c 1945)
ISBN: 9780140436112
Other Formats
Paperback from £2.50
CD-Audio from £13.05
Hardback from £8.89
Mixed media product from £10.85
EPUB from £1.39
Paperback / softback from £17.99
eAudiobook MP3 from £7.20
Free Home Delivery
on all orders
Pick up orders
from local bookshops
Reviews
Showing 1 - 5 of 8 reviews.
Previous | Next
Review by pickwick817
16/06/2015
This book describes the adventures of a newly retired wealthy businssman, Mr Pickwick. He, his fellow members of the Pickwick club, and his servant Sam set out in search of adventure. The book is very well written, quite funny, and was a very enjoyable read.
Review by paulusm
16/06/2015
A top read: witty and enjoyable
Review by wktarin
16/06/2015
LIght-hearted and delightful.
Review by yogipoet
16/06/2015
i think this was the first dickens i'd read and was surprised i enjoyed it so much, went on to read more after that.
Review by souloftherose
16/06/2015
The Pickwick Papers was Dickens' first novel, written at the tender age of 24 and published in monthly instalments from 1836-1837. The story follows the 'perambulations, perils, travels, adventures and sporting transactions of the corresponding members' of The Pickwick Club as they travel across England.I found the funniest parts of the book to be the early chapters where Dickens seems to be concentrating more on pure humour/satire by creating brilliant caricatures and there were several incidents that had me laughing out loud whilst I was reading (fortunately I was reading at home). As the serial progresses Dickens seems to move away from this approach to create more rounded, sympathetic characters, particularly where Mr Pickwick himself is concerned and whilst that meant there were fewer laugh out loud moments it also meant I became fonder of the characters. A note on my edition: My copy was the 2003 Penguin Classics edition and as well as including some very helpful notes on the text and an introduction, this edition also showed where each monthly part ended so I was able to read along as the original subscribers to the serial would have received it (yes, I am a Dickens geek). This edition also comes complete with the original illustrations by Seymour and Phiz which are absolutely superb and really add to the story.All in all, I can't recommend this book enough and I'm only sorry it took me so long to get round to rereading it.