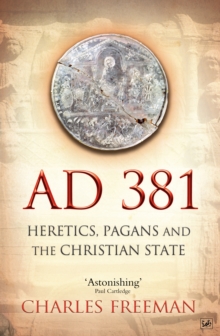 AD 381 : Heretics, Pagans and the Christian State
Paperback
Description
In AD 381, Theodosius, emperor of the eastern Roman empire, issued a decree in which all his subjects were required to subscribe to a belief in the Trinity of the Father, Son and Holy Spirit.
This edict defined Christian orthodoxy and brought to an end a lively and wide-ranging debate about the nature of the Godhead; all other interpretations were now declared heretical.
Moreover, for the first time in a thousand years of Greco-Roman civilization free thought was unambiguously suppressed.
Yet surprisingly this political revolution, intended to bring inner cohesion to an empire under threat from the outside, has been airbrushed from the historical record.
Instead, it has been claimed that the Christian Church had reached a consensus on the Trinity which was promulgated at the Council of Constantinople in AD 381. In this groundbreaking new book, Freeman argues that Theodosius's edict and the subsequent suppression of paganism not only brought an end to the diversity of religious and philosophical beliefs throughout the empire but created numerous theological problems for the Church, which have remained unsolved.
The year AD 381, Freeman concludes, marked 'a turning point which time forgot'.
Information
Format: Paperback
Pages: 272 pages
Publisher: Vintage Publishing
Publication Date: 05/02/2009
Category: Church history
ISBN: 9781845950071
Free Home Delivery
on all orders
Pick up orders
from local bookshops
Reviews
Showing 1 - 1 of 1 reviews.
Review by annbury
16/06/2015
This is an interesting and well written book about Christianity in its early years as a dominant religion. I learned a lot from it, and found many of its arguments convincing, though there are some points on which the author may overstate his case. All in all, well worth reading.The book argues a) that the Emperor Theodosius imposed a single version of Christianity at the Council of Constantinople in 381, and that b) this imposition was a critical turning away from freedom of thought, and from a reliance on reasoned argument. The author's argument about Theodosius' key role make sense: Christianity had vaulted very suddenly to its place as Rome's dominant religion, and it is not surprising that the emperor tried to shape its direction. It was just 68 years earlier, in 313, that Constantine issued an edict of toleration for the faith: before then Christianity was apersecuted religion, existing in many separate congregations, and developing many different approaches to key problems of the faith. Once the faith came out into the open -- and, indeed, came to a central role -- fissures and divisions became vividly clear. These contributed to civil disorder, and Theodosius did not like disorder.The argument that this specific decision shut down a free-wheeling culture of debate is perhaps too narrow. I haven't read the author's "Closing of the Western Mind", but I intend to. My impression from reviews is that "Closing" focusses on Constantine's support of the Church, which moved it from outsider status towards a role as state religion. This process was intensified under Thodosius, and the logic of an imperial autocracy pushed the Church towards a single, codified set of beliefs. It seems to me that the process, the politicization of the Church and the sacralization of politics, was well underway before Theodosius. I will be better able to comment after reading Freeman's earlier book.Be that as it may, this is a very valuable book. First, it clarifies key issues in the development of Christianity. Secondly, it underlines the interaction between political forces and systems of faith -- something that not begin in 381, and hasn't ended today. Finally, it's a good read. I read it right after "Jesus Wars", which is a more nitty-gritty discussion of a slightly later phase in the intra-Christian conflicts that were addressed, but not resolved, in 381.