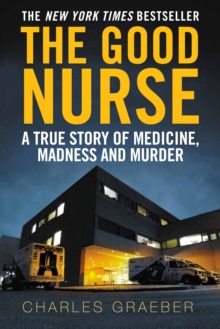 The Good Nurse : A True Story of Medicine, Madness and Murder
Paperback
Description
After his December 2003 arrest, registered nurse Charlie Cullen was quickly dubbed 'The Angel of Death' by the media.
But Cullen was no mercy killer, nor was he a simple monster.
He was a favourite son, husband, beloved father, best friend, and celebrated caregiver.
Implicated in the deaths of as many as 300 patients, he was also perhaps the most prolific serial killer in American history. Cullen's murderous career in the world's most trusted profession spanned sixteen years and nine hospitals across New Jersey and Pennsylvania. Investigative journalist Charles Graeber's portrait of Cullen depicts a surprisingly intelligent and complicated young man whose promising career was overwhelmed by his compulsion to kill, and whose shy demeanor masked a twisted interior life hidden even to his family and friends.
Were it not for the hardboiled, unrelenting work of two former Newark homicide detectives racing to put together the pieces of Cullen's professional past, and a fellow nurse willing to put everything at risk, including her job and the safety of her children, there's no telling how many more lives could have been lost.
In the tradition of In Cold Blood, The Good Nurse does more than chronicle Cullen's deadly career and the breathless efforts to stop him; it paints an incredibly vivid portrait of madness and offers an urgent, terrifying tale of murder, friendship and betrayal.
Information
Format: Paperback
Pages: 320 pages
Publisher: Atlantic Books
Publication Date: 05/09/2013
Category: True crime
ISBN: 9781782393474
Other Formats
Paperback from £7.85
EPUB from £3.18
Free Home Delivery
on all orders
Pick up orders
from local bookshops
Reviews
Showing 1 - 1 of 1 reviews.
Review by shelleyraec
16/06/2015
The Good Nurse is a chilling true crime story revealing the murderous sixteen year career of registered nurse Charlie Cullen, arrested in 2003 and eventually confessing to the murder of forty patients but suspected as being responsible for as many as three hundred.Unlike 'Angel of Mercy' killers, whose twisted thinking means they think they are helping ease suffering, Cullen's motivation for the murders were frightening in their lack of discrimination. He chose patients to murder based on random criteria irrespective of their ability to recover, injected drugs into anonymous IV bag's, and made deliberate medication errors, unmindful of his victim's lives.Psychiatrists eventually ascribed Cullen's actions to his need to compensate for his feelings of powerlessness. Graeber shares enough of Cullen's personal history to give an idea of where his pathology was rooted though I got the impression there were deliberate gaps in his childhood experiences. As Graeber admits Cullen wasn't very forthcoming in speaking about his life, this is understandable. Cullen's ex-wife's cooperation with the author revealed little other than his state of mind during the early years of his murderous sixteen year career.The second half of the book concentrates on the police inquiry into Cullen. The research seems thorough in regards to the tracing of Cullen's work history, the murders he was and may have been responsible for and the details of the police investigation. The difficulties in proving Cullen's culpability are clearly explained, including the negligence of the hospitals who employed Cullen.The book is also an indictment of a health care system motivated by profit, where lawyers make decisions not based on best practice but with corporate indifference. I was sickened no less by the actions of those that permitted Cullen to continue his spree, than I was by Cullen himself. Though unfortunately none of the various hospital administrators could be held criminally liable for their complicity in Cullen's crimes, I was pleased that some of the families were at least able to enact civil penalties.A disturbing yet fascinating read, The Good Nurse is the story of a frightening sociopath, a negligent and corrupt health care system and the tireless work of those who attempted to bring them both to account for their crimes.
Also by Charles Graeber