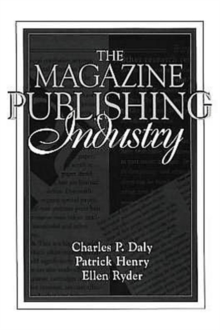 The Magazine Publishing Industry : (Part of the Allyn & Bacon Series in Mass Communication)
Paperback
Description
This book provides students interested in magazines with a primer through which they can gain a better understanding of the industry.
By learning about the magazine industry in the context of our culture and the current marketplace, students gain insight into the industry's current position and its prospects for the future.
A theme throughout the book is the interdependence of functions at a magazine.
Advertising, circulation principles, and editorial techniques are explored in detail along with the current state of the industry and the inner workings of magazines. The Magazine Publishing Industry is divided into three major sections.
The first part presents an overview of the nature, scope, and roles of the magazine industry.
Coverage includes the structure of a company, launching a magazine, the role of publishers, and editorial principles.
Insights also are offered into the state of the magazine business domestically and internationally.
The second part looks at the distinctive functions of magazine circulation as well as the challenges, goals, and objectives of the advertising department.
A comprehensive overview of the production process is included as well.
Finally, the book concludes with discussion of the future of magazines and includes a glossary with key terms.
Information
Format: Paperback
Pages: 310 pages
Publisher: Pearson Education (US)
Publication Date: 08/10/1996
Category: Press & journalism
ISBN: 9780205166121