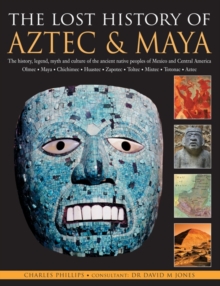 The Lost History of the Aztec and Maya : The History, Legend, Myth and Culture of the Ancient Native People of Mexico and Central America - Olmec * Maya * Chimchee * Haustec * Zapotec * Toltec * Mixte
Paperback
Description
This title presents the history, legend, myth and culture of the ancient native peoples of Mexico and Central America: Olmec; Maya; Chimichee; Huastec; Zapotec; Toltec; Mixtec; Totonac; and, Aztec.
It is a highly authoritative and accessible popular history of Mesoamerica and its many peoples from the Olmecs and Maya, to the Toltecs and Aztecs.
It is fully illustrated throughout with over 500 photographs, paintings, statues, textiles and artefacts showing the places, objects and original material.
You can discover Mesoamerican myths and legends, from creation tales to stories of the gods and goddesses, and the mythology of fertility, harvest and the afterlife.
It features over 150 artworks and maps afford fascinating insights into these ancient civilizations, providing information for school projects, home study and college.
This book offers an in-depth examination of the history, myths and legends of the peoples of Mesoamerica spanning almost 3000 years.
Stories of sun-gods and blood sacrifice, of pyramids and temples, and of the fabulous treasuries of gold raided by the Spaniards have enthralled generations of readers. Architectural and cultural achievements range from the temple-pyramids and stone carvings of the Olmecs to the cities, trading networks and religious societies and systems of the Aztecs and Maya.
This book contains startling revelations about the ancient peoples of Central America, including histories of the lands they conquered, the cities they built and the world they developed.
Information
Format: Paperback
Pages: 256 pages, 500 photographs
Publisher: Hermes House
Publication Date: 01/11/2013
Category: General & world history
ISBN: 9781844775088
Free Home Delivery
on all orders
Pick up orders
from local bookshops