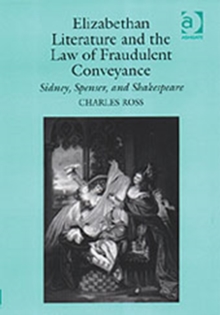 Elizabethan Literature and the Law of Fraudulent Conveyance : Sidney, Spenser, and Shakespeare
Hardback
Description
This book investigates the origins, impact, and outcome of the Elizabethan obsession with fraudulent conveyancing, the part of debtor-creditor law that determines when a court can void a transfer of assets.
Focusing on the years between the passage of a key statute in 1571 and the court case that clarified the statute in 1601, Charles Ross convincingly argues that what might seem a minor matter in the law was in fact part of a wide-spread cultural practice.
The legal and literary responses to fraudulent conveyancing expose ethical, practical, and jurisprudential contradictions in sixteenth-century English, as well as modern, society. At least in English Common Law, debt was more pervasive than sex.
Ross brings to this discussion a dazzling knowledge of early modern legal practice that takes the conversation out of the universities and Inns of Court and brings it into the early modern courtroom, the site where it had most relevance to Renaissance poets and playwrights. Ross here examines how during the thirty years in which the law developed, Sidney, Spenser, and Shakespeare wrote works that reflect the moral ambiguity of fraudulent conveyancing, which was practiced by unscrupulous debtors but also by those unfairly oppressed by power. The book starts by showing that the language and plot of Shakespeare's Merry Wives of Windsor continually refers to this cultural practice that English society came to grips with during the period 1571-1601. The second chapter looks at the social, political, and economic climate in which Parliament in 1571 passed 13 Eliz. 5, and argues that the law, which may have been used to oppress Catholics, was probably passed to promote business.
The Sidney chapter shows that Henry Sidney, as governor of Ireland (a site of religious oppression), and his son Philip were, surprisingly, on the side of the fraudulent conveyors, both in practice and imaginatively (Sidney's Arcadia is the first of several works to associate fraudulent conveyancing with the abduction of women).
The fourth chapter shows that Edmund Spenser, who as an official in Ireland rails against fraudulent conveyors, nonetheless includes a balanced assessment of several forms of the practice in The Faerie Queene.
Chapter five shows how Sir Edward Coke's use of narrative in Twyne's Case (1601) helped settle the issue of intentionality left open by the parliamentary statute.
The final chapter reveals how the penalty clause of the Elizabethan law accounts for the punishment Portia imposes on Shylock at the end of The Merchant of Venice. The real strength of the book lies in Ross's provocative readings of individual cases, which will be of great use to literary critics wrestling with the applications of legal theory to the interpretation of individual texts.
This study connects a major development in the law to the literature of the period, one that makes a contribution not only to the law but also to literary studies and political and social history.
Other Formats
EPUB from £35.98
PDF from £35.98
Paperback / softback from £36.25