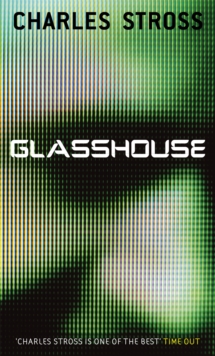 Description
When Robin wakes up in a clinic with most of his memories missing, it doesn't take him long to discover that someone is trying to kill him.It's the twenty-seventh century, when interstellar travel is by teleport gate and conflicts are fought by network worms that censor refugees' personalities and target historians.
The civil war is over and Robin has been demobilized, but someone wants him out of the picture because of something his earlier self knew.
On the run from a ruthless pursuer and searching for a place to hide, he volunteers to participate in a unique experimental polity, the Glasshouse.
Constructed to simulate a pre-accelerated culture, participants are assigned anonymized identities: it looks like the ideal hiding place for a posthuman on the run.
But in this escape-proof environment Robin will undergo an even more radical change, placing him at the mercy of the experimenters, and of his own unbalanced psyche . . .
Information
Format: Paperback
Pages: 400 pages
Publisher: Little, Brown Book Group
Publication Date: 01/01/2007
Category: Science fiction
ISBN: 9781841493930
Free Home Delivery
on all orders
Pick up orders
from local bookshops
Reviews
Showing 1 - 5 of 6 reviews.
Previous | Next
Review by lewispike
16/06/2015
This is a story with a few threads and quite a few twists and turns.It's rapidly apparent that there's the technology for memory editing (and backing yourself up), changing body shapes at will and so forth. There's also been a war recently.There are quite a few twists and turns, like when the lead characters get shoved (possibly by volunteering) into a pseudo-1950's society. The society is subtly wrong, at least to the eyes of the hero, but is that culture shock? (It's subtly wrong to my eyes too, but I never lived in small town USA in the 1950's.)There's some deep, thought-provoking writing about looking back at the past, identity and so forth, and a fun story too, especially if you like characters that don't know if they can trust themselves and their memories.
Review by m.a.harding
16/06/2015
First two thirds are fantastic. Incredible war scenes - horror, sick waste, black humour. And some great satire on 20th century.
Review by wyvernfriend
16/06/2015
This is an interesting story about some people who agree to participate in an experimental polity, the glasshouse in a future that includes teleports for interstellar travel. Robin is fleeing from a ruthless pursuer and has to work at staying alive as well as trying to understand what the world he's in is all about.It's interesting but just not me.
Review by ennui2342
16/06/2015
Starts strongly as an interesting exploration of far future humanity in an era where you can choose your physical incarnation and death is pretty much banished. Then disappointingly segues into these post-humans living in a present-day virtuality. However, the book holds it together through very competent writing and by the end I was very engaged with the characters and story, even if they weren't what I was expecting.
Review by ari.joki
16/06/2015
The setup of the story promises well, and the universe is thoroughly intriguing. Unfortunately, the story gets transmogrified into a fairly mundane suspense/mystery/detective yarn, with the only relevant science-fictional twist being used as a <i>deus ex machina</i>. Even worse, early in the work the protagonist asserts that it is important to synchronize personality threads to achieve a resolution. By the end of the story, this importance is completely left back in the dust.Not a bad story. The universe and technology would have given material for a lot better one, though. Stross has shown themself capable of producing a great story. Inevitably there will be ones that are not great. This seems to be one.