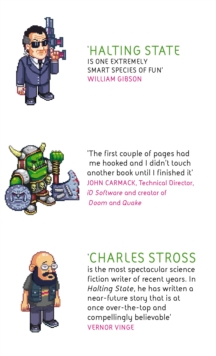 Description
It was called in as a robbery at Hayek Associates, an online game company.
So you can imagine Sergeant Sue Smith's mood as she watches the video footage of the heist being carried out by a band of orcs and a dragon, and realises that the robbery from an online game company is actually a robbery from an online game. Just wonderful. Like she has nothing better to do. But online entertainment is big business, and when the bodies of real people start to show up, it's clear that this is anything but a game.
For Sue, computer coding expert Jack Reed, and forensic accountant Elaine Barnaby, the walls between the actual and the virtual are about to come crashing down.
There is something very dangerous and very real going on at Hayek Associates, and those involved are playing for keeps.
No cheats, no back doors, no extra lives - make a wrong call on this one and it's game over.
Information
Format: Paperback
Pages: 416 pages
Publisher: Little, Brown Book Group
Publication Date: 04/09/2008
Category: Science fiction
ISBN: 9781841496658
Free Home Delivery
on all orders
Pick up orders
from local bookshops
Reviews
Showing 1 - 5 of 6 reviews.
Previous | Next
Review by lewispike
16/06/2015
Another excellent book from Mr. Stross.In this one he takes mostly extant (or at least being researched) technology, some real politics, some real social trends and mixes them together into a novel of the near future.It is set in Scotland, a devolved Scotland, where everyone is online all the time - data goggles are worn by everyone, phones are all smart and so on. The police (complete with goggles and an Augmented Reality overlay called CopSpace) are called in to a crime scene... some orcs and a dragon raided and nerfed a bank in an online game, stealing a load of magic items.But this is only the tip of the iceberg, and it broadens out into spy-games and cyber-terrorism, with large doses of the left hand not knowing what the right is doing and some fun and games.There are big, sweeping themes and ideas, and there are lovely little touches too - the fate of Elise is a particularly poignant touch as far as I'm concerned, and a completely unexpected twist.And as someone who fits into the category of basically never lost any more - my phone has 3G and can pinpoint my position, I have found my way to my optician using this facility for example - it's a rather scary thought of what might be as well as exciting.
Review by reading_fox
16/06/2015
Weird fun. You should only read this if you've some previous experience with fantasy / role play / computer gaming. A bank is robbed, and the police are called to investigate. Even for 2017 the scene of crime as an ex-nuclear bunker seems a bit odd to the attending Seargent Sue Smith. It turns out to have been a virtual bank in one of the companies online game zones. Something that is technically impossible to hack. Enter Elaine - an auditor for one of the firms bankrolling the bank's host. Charged by her high flying management to find out who's responsible and whether her firm was mislead, or missed any information in their intial audit. She has to spend a week in Edinborough looking at the data in person. And for this she needs a consultant - guide - in the form of Jack, dedicated gamer and coder, who can interpret what the firm's geeks are talking about. Told strictly in sequence rotating through the three characters in a weird 2nd person voice - 'you wake up and need coffee'. It turns out that the 'simple' bank robbery by a team of orcs and a dragon, has got some unexpected and very far reaching consequences, because what they did should only have been possible with knowledge of some very secure encryption keys. Who has been leaking the insider information?The 2nd person voice grates a bit , and although I wasn't concentrating on it fully, I'm fairly sure it wasn't totally consistently maintained. The intermittant attempts at a scottish accent are also pretty poor. And although Sue's dialect can be pretty thick, none of the english characters ever struggle to understand her, which would be the only point of emphasising the accent to begin with. The alternating character voice is also annoying, although it does allow multiple viewpoints on what is happening. The biggest downside for many readers is that there is a fairly high level of unexplained technology and computer / gaming terms. I had no problems with it, but I'm fairly sure there is a significant population of people who will be completely lost.For a near future novel the predictions aren't too off beat - a devolved Scotland is in the offing, and much of the technology - VR glasses and the like is already available if not widely used or yet completely user friendly. In an interview at the back of the book Stross states that only 1 technology isn't already commerically available. I'm very sure this is the Quantum Computer, and I'm quite sure it won't be here in 5 years time either. Even if it was it won't be as useful as Stross makes out (and could easily decipher OTP encryption - a very slight plot hole).the initial confusion in the plot (especially the middle section) resolves itself reasonably comprehensibly by the end. I did lose track a few times of who thought what about which, but it just about keeps together. Halting State is a very clever concept pretty well executed, and enjoyble for cyberpunk and techno-geeks everywhere. It is much less dark than many cyberpunk novels......................................................................................................................
Review by ennui2342
16/06/2015
Really nice near future novel from Stross. Explores how virtual worlds will develop and in particular blur with the real world to provide augmented reality.The layered plot is also well formed with convincing characterisation and a fast pace that keeps you reading. A good solid light read, that unfortunately will probably date quite quickly.
Review by ljbwell
16/06/2015
It is no secret that I enjoy cyberpunk, near fiction, alt fiction, sci fi, etc., so I was admittedly predisposed to liking this book. I was not disappointed. And despite a certain amount of acronyms and tech jargon, I found the book eminently enjoyable.Halting State takes place in the near future, 2017, in an independent Scotland (and Scotland has the euro; England is still using pounds). LARPs (live action role playing) & MMORPGs (massively multiplayer online role playing games) are par for the course; everyone wears camera-video screen glasses; and taxis are unmanned, instead being driven remotely. The three main characters, Sue (cop sergeant), Elaine (forensic accountant) and Jack (gamer, programmer), are brought together when they are each called in - for very different reasons - to solve a robbery. The thing is, the robbery took place *inside* an MMORPG. So is it really a crime? What motivated it? What's at stake? And what's really going on?Halting State uses the 2nd person and present tense, each chapter focusing on one of the 3 main characters. These are tricky devices, but for me they suited the novel perfectly. One of the appeals (to me, at least) of the idea of virtual reality and gaming is the ability to feel simultaneously like you are directly in the action and yet safely removed from it, looking at it from the outside. Using the 2nd person & present tense throughout captures that feeling - you aren't right inside the character's head, as in 1st person, nor are you fully outside it as with 3rd person. Other aspects of the novel lend themselves to a SIMs experience, too. For example, cops can spot people with criminal records by colored diamonds rotating over their heads. This book is what's best about speculative near-future fiction. It marries some futuristic technology and politics, but these developments feel oh-so-near to where we are headed now; in fact, most of the technology in this book already exists. In addition, there is a lot of (both sardonic and pun) humor*, but without becoming annoyingly wink-wink-nudge-nudge. Stross makes sharp observations about the future of technology, business and geopolitics, and you sense none of it is that far off from being our reality. *one chapter subheading: "making plans for Nigel".
Review by isabelx
16/06/2015
Inside the wide concourse, everything looks like, well, the kind of trade show that attracts the general public. There are booths and garish displays and sales staff looking professionally friendly, and there are tables with rows of gaming boxes on them. There's even a stray bookstore, selling game strategy guides printed on dead tree pulp. 'Check what it looks like in Zone,' suggest Jack, so you tweak your glasses, and suddenly it's a whole different scene. The concourse is full of monsters and marvels. A sleeping dragon looms over a pirate hoard, scales as gaudy as a chameleon on a diffraction grating: it's the size of a young Apatosaurus, scaly bat-like wings folded back along its glittering flanks liker fantastic jet-fighter.A theft inside a computer game, leads to murder in the real world, and the Scottish police are not the only agency that becomes inch are involved in the investigation. I found it slow-going to start with, but the story picked up speed by the half-way point.