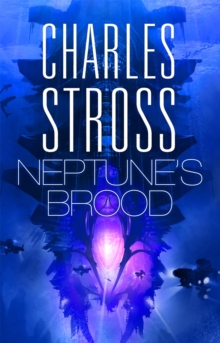 Neptune's Brood
Paperback
Description
Neptune's Brood is a brand new space opera from science fiction legend Charles Stross.
Shortlisted for the Locus Award for Best Science Fiction Novel and the Hugo Award for Best Novel.She was looking for her sister.
She found Atlantis. Krina Alizond is a metahuman in a universe where the last natural humans became extinct five thousand years ago.
When her sister goes missing, she embarks on a daring voyage across the star systems to find her, travelling to her last known location - the mysterious water-world of Shin-Tethys.
In a universe with no faster-than-light travel that's a dangerous journey, made all the more perilous by the arrival of an assassin on Krina's tail, by the 'privateers' chasing her sister's life insurance policy and by growing signs that the disappearance is linked to one of the biggest financial scams in the known universe.
Information
Format: Paperback
Pages: 368 pages
Publisher: Little, Brown Book Group
Publication Date: 05/06/2014
Category: Science fiction
ISBN: 9780356501000
Free Home Delivery
on all orders
Pick up orders
from local bookshops
Reviews
Showing 1 - 1 of 1 reviews.
Review by AlanPoulter
16/06/2015
Set in a future when humanity is extinct, intelligent robots carry on the task of spreading civilisation, having colonised the solar system and sent ships to nearby stars. These are not soulless Asimovian robots as their minds are copies of archetypal personalities, created by conditioning using human experiences (some extremely unpleasant). This conditioning also inculcates basic emotions and needs: for example, robots can enjoy a drink or two (though not of alcohol) and can experience the pleasures of sex when they 'link up'.For control purposes, humans made serving them the deepest desire of a robot. Now humans are gone, 'aristo' robots use this servitude capacity to enslave other robots. Their greatest fear is of 'pink goo' - animal cells of any kind that could, in theory, be used to rebuild one of the lost human 'Creators'. A human, could, simply by their presence, control any and all robots using their inbuilt servitude routines.The second in a series, this novel seemingly eschews the more fundamental issues looked at in the first and takes place in the seemingly rather dull area of accountancy. Krina studies historical accounting practices, in particular the disappearance of the Atlantis space Colony, but is re-assigned to find her sister, who is also a accountant, who has gone missing. There is no FTL drive, but robots can shut down and wait out the journey to nearby stars. The problem is how to finance such expansion. Krina gets cheap passage on a " Human Church" worshippers ship going to the right planet. Unbeknownst to her, she is followed onto the Church ship by a replica of herself who murders the ticketing robot she dealt with and stows away on her ship. And things escalate from there as the scenario opens out in to a gloriously human tale of greed and murder on an epic scale: everything turns out to be inter-related and no-one is entirely innocent. This tale sounds perhaps somewhat grim but this is balanced by its robot cast, some so outlandishly evil in their actions, that they become caricature villains...This novel has everything, new ideas a plenty, a very different approach to space colonisation and humour. It is a shame it missed out on awards. It even makes accountancy seem exciting...
Also in the Freyaverse series