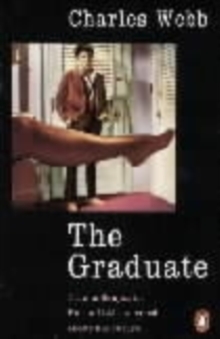 Description
'For twenty- one years I have been shuffling back and forth between classrooms and libraries.
Now you tell me what the hell it's got me.' That's how Benjamin Braddock talked when he came down from university.
Somehow it didn't seem to be what his father expected from a college education, and everyone was really appalled when Ben raped Mrs Robinson (that was her story anyway) and ran off with her daughter in the middle of her wedding to someone else... a brilliantly sordid tale of a young man's search for identity and a portrayal of the worst-behaved yet most sympathetic anti-hero of the day.
Information
Format: Paperback
Pages: 192 pages
Publisher: Penguin Books Ltd
Publication Date: 22/02/1973
ISBN: 9780140026931
Other Formats
Paperback from £6.65
EPUB from £5.24
eAudiobook MP3 from £11.72
Free Home Delivery
on all orders
Pick up orders
from local bookshops
Reviews
Showing 1 - 1 of 1 reviews.
Review by tealightful
16/06/2015
Basic Summary: Benjamin Braddock is an ivy league graduate who comes home to his rich parents with a terrible attitude. He is seduced by the wife of his father's business partner [the infamous, Mrs. Robinson], who tells her daughter that he raped her, then he runs off with the daughter of Mrs. Robinson, right as she's about to marry someone else. (The daughter, by the way, is just as much of a loon as he is. One minute telling him that she better never see him again and the next that she loves him)


This book was awful. The dialogue reminded me of, a slightly more intelligent, Twilight. Not in plot, obviously. Strictly in the horrid writing. Now don't get me wrong, I understand what a risque and taboo book this must've been in 1963 when it was published; perhaps that made up for its wretched writing.

Verbatim dialogue example, punctuation and all:
Oh, his father said. 'Did you talk to some of the Indians?
'Yes Dad'
'They speak English, do they?'
'They try.'
'Well what else did you -'.
'Dad, the trip was a waste of time and I'd rather not talk about it.'
'Oh?' his father said. 'What do you say that.'
'It was a bore.'

Oh, but you say, perhaps the writing got better and there were only a few spots that were rough. Let me squash that for you:

Elaine?
'What.'
'Will you marry me?'
She shook her head.
'You won't?'
'I don't know', she said quietly.
'But you might?'
She nodded.
'You might, did you say?'
'I might?'
'Is that so? You might marry me?'
'What time is it.'

The entire book is written in this dry, stilted mess. As if the scene were being delivered by some defect-ridden robots. Pish-posh, this is one classic you can skip the book and watch the movie instead. The worst part is that this book doesn't even have an ending. It ends in the middle of a scene, no - seriously, it does. Not in a fun, cliffhanger, edge-of-your-seat way either. In an 'are you serious, I just read this whole book for nothing' way.