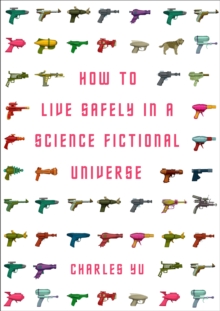 How to Live Safely in a Science Fictional Universe
Paperback
Description
With only TAMMY - a slightly tearful computer with self-esteem issues - a software boss called Phil - Microsoft Middle Manager 3.0 - and an imaginary dog called Ed for company, fixing time machines is a lonely business and Charles Yu is stuck in a rut.
He's spent the better part of a decade navel-gazing, spying on 39 different versions of himself in alternate universes (and discovered that 35 of them are total jerks). And he's kind of fallen in love with TAMMY, which is bad because she doesn't have a module for that.
With all that's on his mind, perhaps it's no surprise that when he meets his future self, he shoots him in the stomach. And that's a beginner's mistake for a time machine repairman.
Now he's stuck in a time loop, going in circles forever.
All he has, wrapped in brown paper, is the book his future self was trying to press into his hands.
It's called How to Live Safely in a Science Fictional Universe. And he's the author. And somewhere inside it is the information that could save him.
Information
Format: Paperback
Pages: 256 pages
Publisher: Atlantic Books
Publication Date: 01/05/2011
ISBN: 9781848876828
Free Home Delivery
on all orders
Pick up orders
from local bookshops
Reviews
Showing 1 - 1 of 1 reviews.
Review by fakelvis
16/06/2015
This is the story of time machine repair man, Charles Yu: the "real-life" author of this book, the author of this book inside this book, and more). Yes, it's self-referential and full of wonderful and slightly-confusing science fiction conundrums and paradoxes.In the acknowledgements, the author nods to Douglas Hofstadter for his excellent tome, 'Gödel, Escher, Bach'. Fans of that book may get a idea for what is in store here, but on a much smaller scale, and with the story of a time machine repair man as the backdrop.With a wonderful story of loss and of a man searching to fill a void left by his father and their forgotten dreams, we are given an equally wonderful metaphor for the complications of living in the modern world.Some quotes that I particularly liked that may pique your interest:"The axes of past, alternate present, and future, or more formally, the matrix operators of regret, counterfactual, and anxiety.""The good news is, you don't have to worry, you can't change the past.The bad news is, you don't have to worry, no matter how hard you try, you can't change the past."