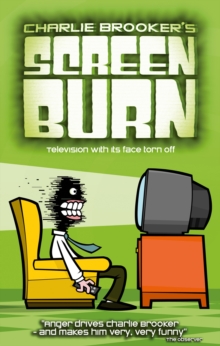 Charlie Brooker's Screen Burn
Paperback
Description
'These days, watching television is like sitting in the back of Travis Bickle's taxicab, staring through the window at a world of relentless, churning shod...' Cruel, acerbic, impassioned, gleeful, frequently outrageous and always hilarious, Charlie Brooker's Screen Burn collects the best of the much-loved Guardian Guide columns into one easy-to-read-on-the-toilet package.
Sit back and roar as Brooker rips mercilessly into Simon Cowell, 'Big Brother', Trinny and Susannah, 'Casualty', Davina McCall, Michael Parkinson...and almost everything else on television.
This book will make practically anyone laugh out loud.
At the turn of the millennium, Charlie Brooker created the notorious website TV Go Home.
More recently, he co-wrote Channel Four's Nathan Barley with Chris Morris.
Prior to become the Guardian Guide's TV critic, Brooker worked as a cartoonist, a journalist, and a TV and radio presenter. "Charlie Brooker doesn't so much go for the jugular as decapitate his targets altogether." (Jim Shelley, Daily Mirror). "He watches these things so we don't have to. Bless him for that." (Graham). "Father Ted." (Linehan). "This belongs on everyone's bookshelf. With a big spotlight pointing at it." (Julie Burchill). "The funniest newspaper columnist in the world." (Racing Post).
Information
Format: Paperback
Pages: 384 pages
Publisher: Faber & Faber
Publication Date: 01/12/2004
Category: Television
ISBN: 9780571227556
Free Home Delivery
on all orders
Pick up orders
from local bookshops
Reviews
Showing 1 - 5 of 5 reviews.
Review by eddieduggan
16/06/2015
This book, as well as the second volume (Dawn of the Dumb) collects Charlie Brooker's weekly columns which first appeared in The Saturday Guardian's entertainment supplement, The Guide. Unlike most television critics, Brooker tends to be scathing and is dismissive of most of the television programmes he reviews, but because television is almost always disappointing, falling so far short its potential, it isn't Broker's approach that should be surprising, it should be the fawning arse-lick simpering of the rest of them. Brooker tends to be quite funny as well, sometimes in a laugh-out-loud kind of way. I hardly watch broadcast television, so I am (happily) unfamiliar with some of the dross Brooker dissects, but even someone who isn't at all familiar with the medium will enjoy Brooker's justifiable rage. Apparently, Brooker has also managed to wangle a television programme out of this, so he now fulminates on screen; that might just be a tad ironic. As noted in another review, these collections are great for the bog which is also ironic, because that's where most television belongs.
Review by fakelvis
16/06/2015
I was introduced to Charlie Brooker through the TV 'adaptation' of this book (itself a collection of his columns from The Guardian). In it, I found Brooker to be hilarious, cutting, and spot on with everything he said.This book is no different and it won't throw you any surprises if you've taken even a cursory look at his column: it'll have you laughing in public and nodding in agreement all the way through.There is one caveat, however: you need to watch a lot of TV in order to 'get' most of this book. As someone who doesn't watch ANY 'broadcast' TV (only on-demand downloads) the majority of the TV references went straight over my head. Still, this didn't spoil my enjoyment of the book much at all.
Review by fieldri1
16/06/2015
Like other reviewers, I first encountered Charlie Brooker on TV rather than through his newspaper columns. However, that just means that as I read this book I found myself imagining Brooker reading it in his very ascerbic, sarcastic style, and this added to the hilarity.The book is a collection of television review columns dating from April 2000 to September 2004. Most of the reviews are bitingly negative, with just the occasional bit of praise thrown in. In the FAQ at the back of the book Brooker explains that it isn't that he hates all television, its just that he finds it easier to be funny about stuff that he doesn't like rather than stuff he does. I don't always agree with him on the programmes that he is positive about. He seems to have spent an inordinate amount of time watchin ITV, which I deliberately avoid. And he even admits to enjoying Pop Idol and all its myriad spin-offs. But I don't think you have to share a taste in order to enjoy the columns, its not even that important that you have an idea of what programmes the book is talking about are like. One other positive thing about this book was that, being a collection of newspaper columns, it provided reading material in little chunks, easily digestible on the fly. Useful for picking up and putting down when you've got a toddler running around.
Review by elliepotten
16/06/2015
This is a book of Charlie Brooker's TV columns from The Guardian, dating way back to the early Noughties. You'd think that they'd be a bit boring to read now, so many years later, but actually Brooker is much like Caitlin Moran in that even if you've never seen the programme he's discussing, you can still enjoy the ride and get a few giggles along the way. He particularly delights in reviewing bad telly, bringing out his blisteringly acerbic humour at full throttle, which is always fun! It was a bit of a nostalgia trip too, reminding me of programmes I enjoyed waaaaaay back when I was a teenager - and it made me feel suddenly old, with references to review copies of upcoming shows making the transition from VHS to DVD, and early mentions of then-brand new series like <i>Scrubs</i> and <i>Smallville</i>. Wow... Great for idle moments!
Review by nwdavies
16/06/2015
At times bitingly, hilariously funny - and even when he's not he's still amusing and always readable. Time to search out some more of his writing I think. And isn't it about time he was back spitting his vitriol on tv again? Haven't seem him for a while.