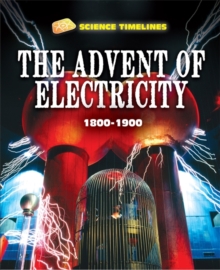 Science Timelines: The Advent of Electricity: 1800-1900
Hardback
Description
A must for Key Stage 3 students aged 11 and up this engaging book uses timelines to describe scientific and technological advances from 1800 to 1900. The 19th century saw the birth of photography and the internal combustion engine, which led to the production of the first cars.
Scientists developed theories about evolution, genetics and the nature of elements.
But the end of the century, they had discovered the elusive electron and its role in electricity. Each volume in the five-book series examines the story of scientific discovery in a series of timelines and each chapter examines either a particular aspect of science, or the life and work of an important scientist of the time.
Parallels with other fields, such as astronomy and mathematics are highlighted so that readers can gain a rounded understanding of how scientists build on what has gone before and how science flourished in different parts of the world, or in different disciplines at the same time.
Information
Format: Hardback
Pages: 48 pages
Publisher: Hachette Children's Group
Publication Date: 23/07/2015
ISBN: 9781445142555
Also in the Science Timelines series