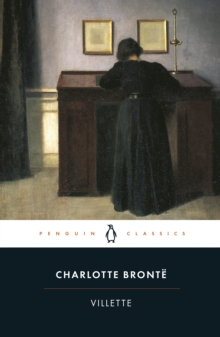 Description
Villette is Charlotte Bronte's powerful autobiographical novel of one woman's search for true love, edited with an introduction by Helen M.
Cooper in Penguin Classics. With neither friends nor family, Lucy Snowe sets sail from England to find employment in a girls' boarding school in the small town of Villette.
There, she struggles to retain her self-possession in the face of unruly pupils, the hostility of headmistress Madame Beck, and her own complex feelings - first for the school's English doctor and then for the dictatorial professor Paul Emanuel.
Drawing on her own deeply unhappy experiences as a governess in Brussels, Charlotte Bronte'sautobiographical novel, the last published during her lifetime, is a powerfully moving study of loneliness and isolation, and the pain of unrequited love, narrated by a heroine determined to preserve an independent spirit in the face of adverse circumstances.
Helen M. Cooper's new introduction places the novel in the context of Bronte's life and career and argues for the importance of the novel as an exploration of imperialism. Charlotte Bronte (1816-55), eldest of the Bronte sisters, was born in Thornton, West Yorkshire. Jane Eyre was first published in 1847 under the pen-name Currer Bell, and was followed by Shirley (1848) and Vilette (1853).
In 1854 Charlotte Bronte married her father's curate, Arthur Bell Nicholls.
She died during her pregnancy on 31 March 1855 in Haworth, Yorkshire.
The Professor was posthumously published in 1857. If you liked Villette, you may enjoy Elizabeth Gaskell's Cranford, also available in Penguin Classics. 'I am only just returned to a sense of real wonder about me, for I have been reading Villette' George Eliot 'Her finest novel' Virginia Woolf
Information
Format: Paperback
Pages: 672 pages
Publisher: Penguin Books Ltd
Publication Date: 24/06/2004
Category: Classic fiction (pre c 1945)
ISBN: 9780140434798
Other Formats
Paperback from £2.50
Hardback from £9.15
Mixed media product from £40.85
eAudiobook MP3 from £5.84
EPUB from £3.99
Paperback / softback from £18.99
Free Home Delivery
on all orders
Pick up orders
from local bookshops
Reviews
Showing 1 - 5 of 8 reviews.
Previous | Next
Review by keristars
16/06/2015
This was a difficult book to read, though I did enjoy it - it's Brontë's writing style that makes it tough. But the subject matter and themes are also a bit dense and hard-going, and this novel won't appeal to most people, I imagine.The story is based loosely on Brontë's own experiences in Belgium, and there are striking similarities to her previous and well-known work <i>Jane Eyre</i>. Lucy Snow in <i>Vilette</i> is also reserved, an orphan, and someone who prefers to watch rather than participate in the world. But even while she observes the people around her, she is being observed, making this a great book for fans of the Gaze in literary theory &amp; criticism. Ultimately, I'd say that <i>Vilette</i> is like <i>Jane Eyre</i> squared, and a good deal more interesting for it. But even so, it was difficult to read and rather long, and I prefer Jane to Lucy. The final statements of each book are nearly the same, in any case: for the heroines to thrive, they must have the power and control in their lives (ie: Jane must be Rochester's caretaker, Lucy must become her own mistress).
Review by juliette07
16/06/2015
This was an excellent read and it was extremely useful to have the references and background information. I read it alongside the BBC adaptation which was an equally excellent adaptation. Set in 1853 with Lucy Snow as the central character we follow her life and learn of her passion, her love and life. So often the prose propelled me to re-read and savour a section time and again as we gained further insights into the character. I loved the reflective writing as we read of how Lucy muses "I shall share no man's or woman's life in this world, as you understand sharing. I think I have one friend of my own, but am not sure; and till I am sure, I live solitary." "But solitude is sadness." "Yes; it is sadness. Life, however, has worse than that. Deeper than melancholy, lies heartbreak."In many ways I felt she was a lady way ahead of her times - along with the setting in both France and Belgium and the education theme this was always going to be a pleasure for me. I was not disappointed and thoroughly recommend this wonderful work.
Review by eleanor_eader
16/06/2015
With neither friend nor family to turn to, Lucy Snowe leaves England (it would be easy to say 'is forced by reduced circumstance', but her character is capable of more than passive decision) with the slightest notion of employment in the fictional (Belgian?) town of <i>Villette</i>. Quickly dealing with practical concerns, and taking a position in a school, her story is a study of the pain of unrequited love, but also an acknowledgement (even a small celebration of the fact) that a woman's life is <i>not nothing</i> if she cannot have the man she loves.I liked this story very much; for all it's sadness it was encouraging, for all it's teasing it was practical. Lucy Snowe may be the <i>best</i> character of romantic period fiction I have ever encountered. Despite a weaker plot-line, she presents as much wiser than Ms. Eyre, she (or, rather, Ms. Brontë) portrays her colleagues and friends with a searching and pragmatic eye, kinder than fierce, but responsive to instinct. The psychology and inner life of Miss Lucy Snowe is the more important aspect of the story.Through Miss Snowe we are introduced to M. Paul Emmanuel. Forget the perfect, benign Dr. Bretton for whom Lucy first harbours a strong admiration; although I loved his dialogue, wildly adored his mother and enjoyed his affection for Lucy, and laughed at his preferences first for Miss Farnshaw and then Miss 'Polly', I read the book with a strong preference for the 'small tyrant', the dictatorial professor who challenges and rails at the Female English Protestant at every turn. Charlotte Bronte obviously enjoyed writing this character, because he jumps off every page and (even when speaking French, thereby making me check the notes on the text at the end of the book frequently, to ensure I hadn't missed any nuance of conversation) whips up a delight in acquaintanceship, perfectly communicated through Miss Snowe to the reader. He is, in fact, a hoot, even before he emerges as a warm contender for Lucy's romantic consideration.*****spoiler warning*****As with an earlier passage where Lucy suggests the reader imagine intervening years between text tranquil and trouble-free, if they prefer, so we know that the 'open' ending does not see Lucy finally settled with her heart's hope… not merely because of her mildly unreliable narrator's trait, but because Miss Brontë, having settled on a tragic ending, was encouraged by her father and publisher to allow a gentler final paragraph. The author's intentions are clear; the storm has rolled in, Lucy's happiness must light on the love she has <i>been</i> shown, and her improved position (not small things). Despite this tendency to believe the morbid turn, I think the story is still ultimately a glad one 'There. I have been loved' Lucy seems to say. The reader, now knowing her well, understands that she will not perish from depression, though she might be sorely afflicted by it, that she will do nothing less than honour the memory of the fantastic, fiery Prof. M. Paul Emmanuel.
Review by stephxsu
16/06/2015
This is the second CB book I've read (the first was Jane Eyre several years ago) and I'm sorry to say that I still have not discovered why the Bronte sisters are so popular. The protagonist of VILLETTE, Lucy Snowe, lacked personality, an almost pathetic observer, not participant, of her world. I realize that this is probably what CB was going for, but I've never understood why protagonists/narrators have to sound like they have nothing that redeems them in the eyes of readers. The plot moves at a snail-like pace and gets a bit predictable and/or sensational at times. I think CB fans will probably like this one, as it does contain her usual odd-but-fascinating characters, in-depth character analyses, and splashes of the supernatural/gothic, but I'm sad to say that this wasn't for me.
Review by shesinplainview
16/06/2015
This is a story of a single English woman in 19th century France, lonely, withdrawn, and private, who nearly gives up on finding love. Although shown affection by her god-mother, god-brother, and a few friends, she's still always the outsider. She steps out alone with nothing but faith, patience, and perserverance. I liked the story alot but it tended to ramble too much for me. Also, part of the dialogue is in French, which I could not translate. I recently read "Agnes Grey" by Charlotte's sister, Anne, and I liked Anne's writing style best.
Also in the Penguin Clothbound Classics series | View all