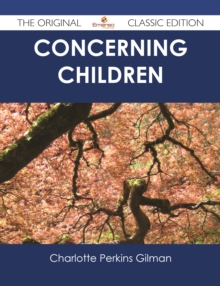 Concerning Children - The Original Classic Edition
EPUB
Please note: eBooks can only be purchased with a UK issued credit card and all our eBooks (ePub and PDF) are DRM protected.
Description
Finally available, a high quality book of the original classic edition of Concerning Children. It was previously published by other bona fide publishers, and is now, after many years, back in print.
This is a new and freshly published edition of this culturally important work by Charlotte Perkins Gilman, which is now, at last, again available to you.
Get the PDF and EPUB NOW as well. Included in your purchase you have Concerning Children in EPUB AND PDF format to read on any tablet, eReader, desktop, laptop or smartphone simultaneous - Get it NOW.
Enjoy this classic work today. These selected paragraphs distill the contents and give you a quick look inside Concerning Children:
Look inside the book:
Take two flourishing pair of the same family (fortunately, the tendency to vary appears to be but slight in guinea pigs, so there is not serious trouble from that source), and let one pair of guinea pigs be lodged in a small but comfortable cage, and fed and fed and fed,—not to excess, but so as to supply all guinea-piggian desires as soon as felt,—them and their descendants in their unnumbered generations. ...Such young people, easily appreciating what could be done for themselves and the world by right living, would pour their rich enthusiasm and unstrained powers into real human growing,—the growing that can be done so well in that short, wonderful ten years,—that must be done then, if the race is to be born better. ...The habit of submission to authority, the long, deeply impressed conviction that to 'be good' is to 'give up,' that there is virtue in the act of surrender,—this is one of the sources from which we continually replenish human weakness, and fill the world with an inert mass of mind-less, will-less folk, pushed and pulled about by those whom they obey.
About Charlotte Perkins Gilman, the Author:
13 Following the separation, Charlotte moved with her daughter to Pasadena, California, where she became active in several feminist and reformist organizations such as The Pacific Coast Woman's Press Association, the Woman's Alliance, the Economic Club, the Ebell Society, the Parents Association, and the State Council of Women, in addition to writing and editing the Bulletin, a journal put out by one of the earlier-mentioned organizations. ...In 1903 she wrote one of her most critically acclaimed books, The Home: Its Work and Influence, which expanded upon Women and Economics, proposing that women are oppressed in their home and that the environment in which they live needs to be modified in order to be healthy for their mental states.
Information
Format:EPUB
Pages:76 pages
Publisher:Emereo Publishing
Publication Date:18/03/2013
Category:
ISBN:9781486447367
Also by Charlotte Perkins Gilman | View all