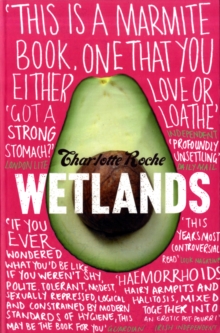 Description
With her jaunty dissection of the sex life and the private grooming habits of the novel's 18-year-old narrator, Helen Memel, Charlotte Roche has turned the previously unspeakable into the national conversation in Germany. Since its debut in February, the novel (`Feuchtgebiete', in German) has sold more than 680,000 copies, and is the biggest selling book on Amazon anywhere in the world. The book is a headlong dash through every crevice and byproduct, physical and psychological, of its narrator's body and mind.
It is difficult to overstate the raunchiness of the novel.
Wetlands opens in a hospital room after an intimate shaving accident.
It gives a detailed topography of Helen's hemorrhoids, continues into the subject of anal intercourse and only gains momentum from there, eventually reaching avocado pits as objects of female sexual satisfaction and - here is where the debate kicks in - just possibly female empowerment.
Clearly the novel has struck a nerve, catching a wave of popular interest in renewing the debate over women's roles and image in society.
Information
Format: Paperback
Pages: 225 pages
Publisher: HarperCollins Publishers
Publication Date: 01/06/2009
ISBN: 9780007307616
Free Home Delivery
on all orders
Pick up orders
from local bookshops
Reviews
Showing 1 - 1 of 1 reviews.
Review by djfifitrix
16/06/2015
I enjoyed this book, but also hated it at the same time - hence the 2.5 star review! I'm sure once you've read it you'll understand where I'm coming from.I'd never heard of this book until a few months ago, then loaned it from my local library. As others have said before me, the explicit descriptions of sex acts, bodily functions etc aren't really anything new, depending on what you've already read, watched, experienced etc. but how you perceive them is of course dependent on how open-minded, strong-stomached you are! I was shocked at some of the descriptions, and I thought I was pretty open-minded, especially when it comes to sex!In terms of the actual story and characters, I really thought Helen was, to be perfectly honest, a complete idiot, very selfish, very strange and, please mind my language, an utter bitch. I couln't sympathise with her at all, and wished ill things on her, although given her perversion and obsession with sexual parts, and espeically hygeine, I think the kind of things I wished on her she would have gotten off on! I believe Charlotte Roche (using descriptions of sexual acts, intimate parts, hygeine, and then the injuries Helen suffers and then consequently, inflicts on herself) intended to get under the readers skin in such a way that you cannot help but imagine doing these things to yourself, and not just be shocked/impressed at the range of disgusting things an 18 year old girl is capalbe of! I know I certainly could not stop thinking about some of the things, way past after they had happened, as they really got to me. And as for the ending - very disappointing and also quite stupidly far-fetched. It seemed to me that Roche had lost her thread and couldn't really think of an ending. I don't think trying to see Helen 'happy' worked for me, as I didn't think she deserved to be. I wasn't shocked by this book, but more disturbed by it and was also slightly embarrassed whilst reading it, as, as others may also feel, Roche inflicts things on you in those pages that most people would never think of, admit to, do to themselves/others. That's why I gave it 2.5 stars, as I feel a love/hate relationship towards it.