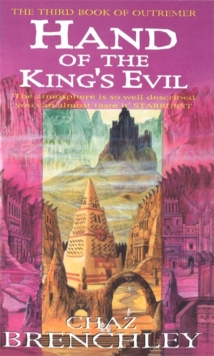 Hand of the King's Evil
Paperback
Part of the Outremer series
Description
The Kingdom of Outremer was forged from the hot blood and cold steel of battle, but a fragile peace has come at last.
Still, the threat of war stalks its borders and heresy lurks within, the poison seeping from its own renegade state of Surayon.
Julianne, already wife to a lord of Outremer, has married the kingdom's greatest enemy, Hasan -- war-leader of the mighty Sharai tribes.
Kidnapped on her wedding night, she is held captive in an abandoned castle, the lure for a trap whose intended prey is far from clear.
As Julianne's friends rush to her rescue, Hasan follows them with his whole army in pursuit.
An army of the poor is also marching to an uncertain end, following a preacher with a blessed relic and a gift for miracles. And as the righteous rise to cleanse Outremer, all paths converge on the vanished state of Surayon -- whose borders can only be breached by treachery and blood.
Hand of the King's Evil is the dramatic conclusion to a spellbinding fantasy epic.
Information
Format: Paperback
Pages: 768 pages
Publisher: Little, Brown Book Group
Publication Date: 05/05/2001
Category: Fantasy
ISBN: 9781841490359
Free Home Delivery
on all orders
Pick up orders
from local bookshops
Reviews
Showing 1 - 3 of 3 reviews.
Review by surreality
16/06/2015
Unfinished - I started to skip pages by chapter 2, and completely lost interest after a hundred pages. Plot: In a whiplash-inducing change, this volume picks up where book 1 left off, with the cast members who were completely ignored in book 2. The story moves agonizingly slowly, and there is a sudden penchant for odd foreshadowing and for cliffhangers. Characters: Nobody of interest; all the ones who started out as intriguing in book 1 lost most of their appeal here. Style: Pretty prose, but far too much of it. It weighs the whole story down, and the plot gets lost among the descriptions.Plus: The prose. Characters from book 1 have not been forgotten after all.Minus: The story is incredibly bland by this point, and disintegrates completely.Summary: The book feels like a Potemkin village - lots of pretty prose, but no plot or characters behind it.
Review by wyvernfriend
16/06/2015
Julianne is now married twice, Anton is free of the Daughter but finds himself missing it terribly, and all of the cast are building up to a battle royal.It's a complicated world with complicated twists and turns and layered politics. It's good but somehow I felt somewhat relieved to be finished. While I felt more of a connection to both of the female characters they really didn't fell like they were distinct enough as people to stand out, often I found myself wondering which one the author was referring to by "she".Still, it's an interesting, multi-layered story that's set in a sligtly different world, in a Middle East both like and unlike our own in the Middle Ages and with a huge cast of characters.
Review by salimbol
16/06/2015
Very solid conclusion to the Outremer trilogy. I read the first two books many years ago (this gap is not reflective of their quality, it's just me being slack!); my memory of plot details is a little fuzzy and therefore I probably am not the best judge of how well this volume ties up all the loose ends. However, it certainly reintroduced me to the story and the major players in an economical fashion, the setting was thoroughly evocative, the characters were well-rounded, and it deftly and humanely navigated what could have been a minefield of ethnic and sexual stereotypes in lesser hands. The ending did feel slightly rushed; I think this series warrants a re-read at some point, so I can decide. And I will definitely be looking for more of the author's work!
Also in the Outremer series