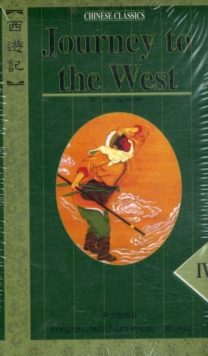 Journey to the West
Mixed media product
Information
Format: Mixed media product
Pages: 1851 pages, Illustrations
Publisher: Foreign Languages Press
Publication Date: 01/01/1993
Category: Thought & practice
ISBN: 9787119016634
Free Home Delivery
on all orders
Pick up orders
from local bookshops
Reviews
Showing 1 - 2 of 2 reviews.
Review by StevenTX
16/06/2015
Journey to the West is an epic fantasy adventure compiled in the 16th century by Wu Cheng'en from a body of oral and written sources. The setting is the Tang Dynasty (7th to 10th centuries), and the novel depicts in allegorical form the growing influence of Buddhism on China and its fusion with Taoism and Confucianism. The novel begins with the birth and early history of its principal character, Monkey. He is a creature of divine origins born from a sacred stone on the Mountain of Flowers and Fruit many thousands of years ago. Not content with being king of a nation of monkeys, he seeks out a Taoist master from whom he learns magical powers so potent that Monkey dares to defy Heaven itself. For this he is imprisoned by the Tathagata Buddha under a mountain for five hundred years.Next we have the background of the Buddhist priest Sanzang, himself once an immortal but banished to mortal life as punishment for a careless misdeed. He has now purified his soul through ten reincarnations. He is chosen by the Tang Emperor for a monumental task: Sanzang is to journey from China to India where he will find the Tathagata Buddha atop Vulture Peak. He is to obtain copies of the holy Buddhist scriptures so that the people of China may improve their conduct and well-being.Sanzang is, frankly, a rather pathetic creature, pure though he may be, and could not get across town on his own, much less across a continent. Fortunately he has the divine aid of the Bodhisattva Guanyin, who frees Monkey and converts him to Buddhism so that he can be Sanzang's guide and protector. Later he is joined by two other reformed immortals: Pig and Friar Sand.The great majority of the novel's 100 chapters are devoted to the journey itself and the series of adventures that befall the four monks. Most of the adventures follow the same format: They come to a particularly dangerous-looking mountain, forest or city. Sanzang quails in fear, but Monkey reassures him, but provides some prudent warning. Sanzang then ignores Monkey's warnings, blunders right into the danger and gets himself captured by some evil spirit. Monkey fights a mighty battle to recover his master, but eventually must either resort to trickery or summon divine aid to save the day.Most of the demons and monsters they face are supernatural creatures that have escaped from their heavenly masters and assumed human form. They are particularly eager to capture Sanzang because he is so pure that his flesh has special properties. The male demons will gain immortality by eating him, the female demons by mating with him.Chinese culture has for centuries been built upon a fusion of Confucianism, Taoism and Buddhism, and Journey to the West, while it is most favorable to Buddhism, reflects that fusion. Monkey calls upon Taoist deities as frequently as he does Buddhist ones, and recommends the study of Confucius as well as the Buddhas and Laozi. The particular Taoists represented in the novel, however, are mostly (and spectacularly) evil, as was Monkey himself as a Taoist before his conversion to Buddhism.Though many abridgements have been published over the centuries, the 100 chapter version of Journey to the West is the authoritative one. It is delightfully easy to read, with some very inventive situations and plenty of humorous banter between the clever Monkey and the selfish, simple-minded Pig. With only three characters of any consequence, it is not only an easy book to digest but one that is easy to put aside and pick up days or weeks later. This may be inevitable as some of the adventures do begin to be a bit repetitive, and the novel, in the excellent 4-volume Foreign Language Press edition, is over 2300 pages long. Journey to the West is a cultural treasure that anyone with a serious interest in Chinese literature should read, but it is also an entertaining and amusing adventure story.
Review by VikkiLaw
16/06/2015
Warning: Do not read on an empty stomach or with an empty refrigerator.
Also by Cheng'en Wu