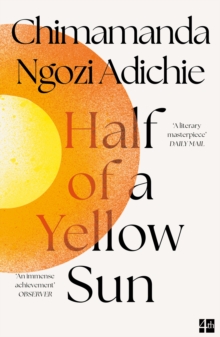 Half of a Yellow Sun
Paperback
Description
WINNER OF THE BAILEYS PRIZE BEST OF THE BESTWinner of the Orange Broadband Prize for Fiction 2007, this is a heartbreaking, exquisitely written literary masterpieceUgwu, a boy from a poor village, works as a houseboy for a university professor.
Olanna, a young woman, has abandoned her life of privilege in Lagos to live with her charismatic new lover, the professor. And Richard, a shy English writer, is in thrall to Olanna's enigmatic twin sister.
As the horrific Biafran War engulfs them, they are thrown together and pulled apart in ways they had never imagined.Chimamanda Ngozi Adichie's masterpiece, winner of the Orange Prize for Fiction, is a novel about Africa in a wider sense: about the end of colonialism, ethnic allegiances, class and race - and about the ways in which love can complicate all of these things.
Information
Format: Paperback
Pages: 448 pages
Publisher: HarperCollins Publishers
Publication Date: 01/01/2007
ISBN: 9780007200283
Other Formats
Paperback from £7.69
EPUB from £6.49
Free Home Delivery
on all orders
Pick up orders
from local bookshops
Reviews
Showing 1 - 5 of 22 reviews.
Previous | Next
Review by littlebookworm
16/06/2015
I must have missed something in this book, based on the universal praise it has received. It took me a long while to get into it. I appreciated Adichie's prose, her detailed characters, and her attention to history, but something along the way failed to grab me. The worst part is that I can't quite nail down what dissatisfied me, because usually I can. I think that the conflict disturbed me, as did the fact that such atrocities were happening and no one did anything substantial to help the Biafrans. It was hopeless and depressing. That doesn't negate the power of the story, but it does make me step back from the novel and question. I suppose that is actually the mark of a great book, but at the same time I just can't say that I liked it.
Review by dylanwolf
16/06/2015
I find the most difficult of star-ratings to allocate to a book is when I am undecided between four and five stars. It is as though there is no rationalisation that I can define that objectively leads me to allocate the full five stars. Certainly I want to be frugal with those maximum star ratings, but can I truly justify in all cases the elevation of those I've given five over four? Probably not, in the words of Fagin in the hammy sentimentalised stage musical, Oliver! - how nauseating is that exclamation mark alone – I think I better think it out again.So, I'm going to chicken out and give Half a Yellow Sun four (or rather four and a half) stars rather than five and only for a very minor quibble that is entirely down to my own personal taste. After the sanitised cardboard characters of Still Alice, it has been a relief to turn to an author who has utilised flesh and blood characters who she cares about – which in turn makes you care about them. In this Half a Yellow Sun reminded me a lot of Rohinton Mistry's A Fine Balance. Although it would be possible to argue that Chimamanda Ngozi Adichie selects an improbable full range of related characters so as to help illustrate those points she wants to illuminate about civil war in Africa, there is a clear sense in which these issues are explored rather than pontificated upon. Not to proselytise is a difficult task, particularly when a novel the written almost exclusively from the Biafran side; that this book achieves that aim is impressive.Half a Yellow Sun is nonetheless a book which still teaches much about the Biafran War that I for one was ignorant of. Amazing that the less savoury incidents of British History are skated over at school in favour of those with rather more honourably moral justifications. I was a child at the time and though I can remember the news reports about starvation, I had little concept about the context or causes of the war. Half a Yellow Sun stands alongside All Quiet on the Western Front in its exploration of the destructive effects of war upon individuals, and perhaps goes deeper in its exploration of relationships.This is a hard and sad book to read because the violence is reported dispassionately but, nevertheless graphically. There is a section that is written out of time sequence, which helps to provide some surprise, anticipation and mystery, but I suppose might confuse some readers. The writing is very effective without ever being showy. The story is heartfelt and grave, but is not laborious, nor written without humour. My quibble is that there is a mite too much sex in it for my taste. Ha! What a point to get prudish on; it's not a fair criticism at all because the characters come to sex for a variety of reasons – the most affecting being consolation more than love even. And the corrupting effect of the war upon poor Ugwu is heartbreaking. I'm not at all sure why I can't just dismiss this as trifling pettiness on my part.I would highly recommend this book.
Review by juliette07
16/06/2015
"The world has to know the truth of what is happening, because they simply cannot remain silent while we die."For those of us who did not know the truth this book was most surely essential reading.At first I marvelled at what I was learning about the Nigeria-Biafra War of 1967-70. Told from the Biafran point of view the main characters are Biafran: Olanna and Odenigbo, well-off and well-educated academics; Ugwu, their houseboy; Kainene, Olanna's twin sister and Richard who is a British expat and Kainene's partner Their lives are laid before us as their characters are developed. Little by little uncomfortable, sometimes slightly shocking phrases begin to appear. Issues of race, culture, loyalty, class and ethnicity become intermingled and I struggled attempting to unravel the reasons for the characters' behaviours. I was not far into the book when I found myself often reaching for my tiny index sticky markers. I used these when I felt anger, compelled to ask a question, exclaim or simply love the turn of phrase of the author. Sometimes in Half a Yellow Sun it was the simplicity of what was said that was so compelling. All was not bleak and in places there were wonderful examples of hope and the survival of the human spirit. The young Ugwu dedicates himself to mastering English and is justifiably proud of his efforts while we see Richard, white European equally keen to speak Igbo. Both wish to be considered as achieving – so what is it about a culture that gives a character a sense of belonging and the acceptance?I 'knew' that there were going to be the most terrible scenes of violence, descriptions of atrocities that beggared belief but was still shocked at the starkness. The historical political events continue as we witness human beings whom we have got to know in their everyday pre war life struggle to survive, looking for places to live, food to eat and people they have lost. Grief, violence and fear replace the evenings of comfort and dinner parties pre war. It makes you wonder why some become so preoccupied with material extras of life.The strength of the human spirit does triumph in numerous ways. Here is one example from which I resolved to learn. Edna has just heard of the cruel death of four little girls when the Baptist church in her home town had been bombed. Edna sobs herself to sleep and Olanna who has been attempting to comfort her …….. 'sat thinking about how a single act could reverberate over time and space and leave stains that could never be washed off. She thought how ephemeral life was, about not choosing misery'……. So at the end, the lasting theme for me is one of man's inhumanity to man. When will we learn to respect and value human life, refrain from taking up arms and give to those in greatest need ....
Review by dianne50
16/06/2015
A beautifully written, heart wrenching story of the Nigerian civil war. I clearly remember the terrible pictures of starving children in Biafra when I was a child in the 60's. This story brings the tragedy into the realm of ordinary people, with which any of us can identify, and to characters that we come to like as we watch hate feed on itself and turn ordinary people into extraodinary human beings, and some into the monster they never knew was within. As always the real reasons for the war are lurking in the background, wearing faces of humanitarianism and concern for the down trodden, and as in Rwanda, allow the tragedy to unfold without lifting a finger to assist, and ultimately leaving the mess for the people of the country to try to sort out. A must-read from a lovely young writer.
Review by mooknits
16/06/2015
I found this book really hard to get into and if I hadn't have been reading it for a book club I would certainly have given up. I am so glad I didn't. It was heart wrenching reading about the war - so hard, but so necessary. It made me think - more than that - it made me feel. As I was reading about children living off rats and that being a luxury - my five year old boy came into see me covered in chocolate from his Easter egg - I nearly bust into tears. Hard work but worth it in the end.
Also by Chimamanda Ngozi Adichie | View all