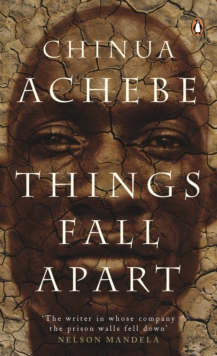 Things Fall Apart
Paperback
Description
Okonowo is the greatest warrior alive. His fame has spread like a bushfire in West Africa and he is one of the most powerful men of his clan.But he also has a fiery temper.
Determined not to be like his father, he refuses to show weakness to anyone - even if the only way he can master his feelings is with his fists.
When outsiders threaten the traditions of his clan, Okonowo takes violent action.
Will the great man's dangerous pride eventually destroy him?
Information
Format: Paperback
Pages: 208 pages
Publisher: Penguin Books Ltd
Publication Date: 26/01/2006
ISBN: 9780141023380
Other Formats
Paperback from £5.39
Hardback from £10.00
EPUB from £4.99
Paperback / softback from £6.95
Free Home Delivery
on all orders
Pick up orders
from local bookshops
Reviews
Showing 1 - 5 of 9 reviews.
Previous | Next
Review by NicoleHC
16/06/2015
Read it for high school. Stayed in mind, tho, always. Just the title is enough to tell: things do fall apart.
Review by hijohnmark
16/06/2015
This book offers a fantastic insight into the world of Nigerian African tribal life. Toward the end, their world is dramatically changed by the white missionaries, but interestingly enough, the author chooses not to depict either culture in a more favorable light. While the native African practices often lead to cruel deaths and painful, ritualistic ordeals, the Christians are usually ignorant of the tribe's cultural needs and stubbornly intolerant of their behavior; not so much in a sense that they are converted, but still acting like pagans--rather, the Christians decide to govern the affair of ALL tribe members, converted or not, in order to force them into submission to their own Judeo-Christian values. While the book is provocative and insightful, the writing can seem repetitive and bland at times. I didn't particularly enjoy reading the book, but the viewpoint of the author is certainly interesting.
Review by bchesney
16/06/2015
Interesting in light of his criticism of Heart of Darkness. Achebe as also created a character that is difficult to love, or easy to loathe, depending on how you look at it. Is his deplorable treatment of his wives and children more acceptable than Marlowe's unabashed racism. Both are clearly flawed characters that are used to ask deeper questions.
Review by dylanwolf
16/06/2015
I found this more of a labour to read than I expected to, perhaps because I found it hard to side with the threatened native culture. If it is one that is self-sustaining and at one with the land around it; it is also one that is brutal, warring and superstitious and self-obsessed. No more so, perhaps than the Christian fundamentalism that is ushering in the West but with no greater claim to the moral ground. Both ways of life have floundered with the onslaught of internationalism. Achebe is not proselytizing and portrays Okwonko's faults along with his strengths. The power of this book lies in the even-handedness of it. But, because of that perhaps, I failed to engage fully with the plight of the tribe.
Review by marek2009
16/06/2015
A very interesting portail of African life & the process of colonisation. Intersting, for a book lauded as post-colonical classic, it convinced me we did Nigeria an enormous favour.