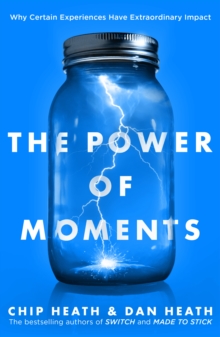 The Power of Moments : Why Certain Experiences Have Extraordinary Impact
Paperback
Description
From the internationally bestselling authors of Switch and Made to Stick.
What if a teacher could design a lesson that he knew students would remember twenty years later?
What if a manager knew how to create an experience that would delight customers?
What if you had a better sense of how to create memories that matter for your children?
We all have defining moments in our lives - meaningful experiences that stand out in our memory.
Many of these moments are the result of accident or luck but, in The Power of Moments, internationally bestselling authors Chip and Dan Heath ask: why leave our most meaningful, memorable moments to chance when we can create them?
With illuminating stories ranging from the experiment in which two strangers meet in a room and, forty-five minutes later, leave as best friends to the tale of the world's youngest female billionaire, who credits her resilience to something her father asked the family at the dinner table, Chip and Dan Heath identify the elements these flash points have in common and show us how to be the author of richer experiences.
Free Home Delivery
on all orders
Pick up orders
from local bookshops